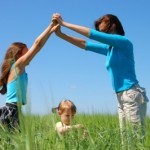 Parents Anonymous Inc. is the nation's oldest child abuse prevention organization, dedicated to strengthening families and building caring communities that support safe and nurturing homes for all children.
The mission of the organization is to Strengthen Families and Building Strong Communities, Achieve Meaningful Parent Leadership and Shared Leadership, Lead the Field of Child Abuse and Neglect.
These four guiding principles are the foundation of Parents Anonymous Inc. and form the basis of all organizational activities, programs and structures.
Meaningful Parent Leadership Parents are effective and needed leaders who shape the direction of their families, programs and communities.
Effective Mutual Support Parents give and receive support from each other thereby creating a strong sense of community, belonging and trust.
Successful Shared Leadership Parents and professionals build successful partnerships to share responsibility, expertise and leadership to strengthen families and improve services and communities.
Long-Term Personal Growth Parents, children and youth transform their attitudes, learn new behaviors, and build on their strengths to make long-term positive changes in their lives.
PROGRAMS
Parents Anonymous Group
The proven effective Parents Anonymous prevention program serves the entire family through Parents Anonymous Groups and Children's Programs. Parents find a caring, supportive environment where they can learn new parenting strategies and create long lasting positive changes in their families. This vital community-based program includes weekly, free of charge Parents Anonymous Groups which are co-led by parents and professional Group Facilitators trained in the Parents Anonymous model. Parents can join a Parents Anonymous Group at any time and attend for as long as they wish. While parents are meeting, their children and teens attend the Parents Anonymous Children's Program where they engage in a variety of rich, fun, hands-on activities that stimulate positive emotional growth and development. Details here
Parents Anonymous® Children's Program
Children and youth find a safe and nurturing environment in the weekly, free of charge Parents Anonymous® Children's Program. While their parents are meeting in the Parents Anonymous® Group, the children participate in the Children's Program at the same time and location. Children engage in a variety of rich, fun, hands-on activities that stimulate their emotional and social growth and development. Details here
Find a group near you Network Map