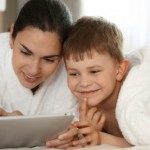 You don't always see the results of how you raise your children until they are much older. Oh sure, you might see the child who is kind, shares well with others, has a good heart for the less fortunate, but the true person they will grow into emerges when they are older and more mature.
For these very reasons are why parents need to remember how we behave and interact with others shapes and molds our children into the very person they learn to become. If you find yourself in situations that are bad for you, choose wisely, as your children might choose the same. Talk to one another in respectful ways, and your kids will too. Be careful not too judge too harshly and with vicious criticism,  as your children will follow that same path too. Respect yourself first, and all those that cross your path will too. Teach compassion and forgiveness, and your children will learn that we are all human.
Read to your children from the very beginning, so their world will be filled with hope, dreams and possibilities.
Shower them with love, but don't smother them from learning. Teach them right from wrong and guide them through their challenges in life. Don't wait for others to do what only a parent can, raise them to be good people.
Having money eases our burdens and makes our lives more convenient, but it's not everything. True happiness is the secret to success. Where there is happiness, success will follow. It's one of those "laws of life" you may have heard but wondered, is this true? It is.
The answer to our problems comes in stages. There is never that one magic answer in solving all your problems. Sometimes the solution comes to you when you pray about it, reflect on it, go for a walk, watching your children play at the park, or catching the ocean waves. Perhaps the answers come to you as you watch your baby sleep. Let your inner compass guide you in life, and listen more often, to what it tells you. They say your "gut feeling" is your conscience, perhaps that is true. You usually have a "feeling" when something seems right or wrong….follow your instincts. Trust yourself more.
The rewards in life may come in simple ways, or it can arrive like a bolt of lightening. It could be a bill that you paid, the groceries you were able to buy, or encouragement from a friend. It could be a hug from your child, the tears you shed when you cried alone at night. The comfort of a song, a book that opened your eyes. Sometimes the most subtle hint is the key that will open a new door for you.
The payback as a mother, a parent is from watching your child grow, explore, and develop into the wonderful being they were meant to become. With your love and guidance and promise of a bright future, and a better tomorrow, they will achieve their dreams. Their thanks might come as words, or might be disguised in their mannerisms, their love for their family, their gift to see the world as spectacular.
Money can't buy that, only love and good parenting can.
Article by Laurie Cesario-Overton