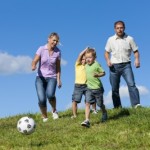 As a single mom, you should and will return to the dating circuit sooner or later. If the man in question works for you and the kids, eventually you may even consider planning a holiday together. While holidays with their dad may not have needed as much attention, these ones will demand some more care. Since you would not want to ruin the vacation due to awkward feelings or distressed emotions, it will help to keep a few tips in mind.
Here are some such tips that will help you plan a good vacation with the kids and your date together:
Personal space – The vacation must allow for some personal space to both the parties. Keep in mind that since your date is not the father of your kids, it would be unrealistic to expect them to share personal space all the time. Different bedrooms should always be considered if the option is available. Forcing everyone to bunk together may not work well especially if it is the first time that you are stepping out together. This personal space will help the kids and your date interact more happily and retreat to their personal areas when they so wish to.
Activities – When a group of people step out, it is important that everyone has fun. This is important to keep in mind when you are planning your vacation too. Make sure the vacation activities are something that everyone will enjoy. Don't drag the kids to events that they don't like and do not expect that your date will enjoy every kiddy activity. If going on a cruise, pick one that offers options for adults and kids alike and nether party is feeling left out or bored during the vacation. Such a feeling can create negative vibes which may not only ruin your vacation but also your relationship with your date as well as the kids.
Inputs – When planning a vacation with your man and the kids, it is important that you take inputs from all of them. Let every person give you their opinion so that you know where the vacation is headed. It will be great if you can plan the vacation together since this way everyone knows what to expect. The planning will also allow the man in your life to get to know the kids better and vice versa.
Schedule time slots – For such a holiday to be successful, it is absolutely necessary that you schedule your time slots. So while you may wish to spend the evenings with your date, make sure that you spend your afternoon with the kids, doing what they like. This will not make the kids feel left out and your date shall not have something to complain of too. At all points let everyone concerned know that you are not exclusive for the kids or your date.
A well planned vacation with the man in your life and your kids will allow you great insight into their relationship. In case you wish to take the relationship further, this information will help you tremendously.