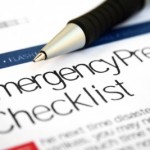 Looking after the kids, taking care of the home, juggling a job with all of this is not for the faint of heart. As single mothers we are some kind of SuperWomen. With all the busy work we need to take the time to prepare for emergencies in any of the situations. The more prepared we are, the less the impact. The preparation takes on an all new meaning when the subject is the children.
Let's take a look into some points that will help moms prepare of emergencies, especially keeping the safety of the children in mind.
Emergency Contacts - Discuss with family members a manner to meet, and communication alternatives in case of a disaster, when phone, internet communication is no longer available.
First aid box – This is a must in every home and an absolute necessity in homes that have children. Right from small scrapes to larger wounds, the first aid kit will help deal with it all. A first aid box needs to have some bandages, a pair of scissors, an antiseptic and a few more similar items that come in handy when dealing with a wound. We can prepare these boxes, but also purchase them; they are available off the shelf.
Emergency supplies – It is also important to stock up with some emergency supplies that may be needed in case of a natural catastrophe. Everything right from clothes, flash light, food supply and even water, you need to store it all. Those living in areas where earthquakes are common, or where the fear of floods is high, need to plan these emergencies in greater detail.
Emergency Phone Numbers – An emergency may occur when you are not home and this means that you will need to have alternative contacts to deal with these situations. Right from the police station, fire brigade to even the local hospitals number, list them all out near the phone. Have emergency contact numbers on display too, so that in case a neighbor tries to help the instructions on whom to contact is readily available.
Emergency medications – Keeping a box of emergency medications in a handy place is very important. In case someone in the family suffers form a chronic ailment like diabetes or an allergy, these medications must be kept in the most easily accessible place. Keep a list inside the emergency medicine box that tells about the dosage of the medicine and the person who is suffering from the problem. Make sure that this box is updated frequently and the medicines in here have not expired.
Dealing with an emergency is made much easier if we are prepared for it and so irrespective of how safe you feel, make sure that you do adopt these emergency safeguards. In a house with children small emergencies tend to occur often, and any thing as small as a gas leak or even a detergent poisoning could turn vicious if it's not given immediate care. Our children are our responsibility. Making sure that they stay safe and planning for possible events is wise. Add to the list depending on your own needs, in order to ensure that your are prepared for emergency situations.