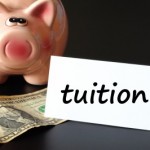 Money seems to evade a single mom and as one with no college degree I was definitely one of those single moms who never seemed to have enough money. After finishing my high school, I worked for a year and saved up some money to fulfill my dream of backpacking through Europe. The intention was to come back after this six month break and then get back to college. But like saying goes, Life is what happens to you while you are busy planning other things.
I met Antonio during my trip to Zurich. At 20 he just swept me off my feet. He was charming, good looking and the entire package. We hooked up almost instantly and Antonio became my travel companion for the remainder of my trip. In fact he knew so much about Europe that traveling with him was a dream come true. Often we picked up small jobs here and there and went on with our traveling. Soon my visa ran out and I knew I had to head home.
Neither me no Antonio were looking to get married so early and so decided to get back to our lives in our own countries. Once back I realized almost instantly that I was pregnant. While I won't deny that I did contemplate an abortion, I just did not have the strength to go through with it. Antonio also tried to convince me to get rid of the pregnancy since he could not help in any way. I walked away from the abortion and five years from then I believe it is the best decision I ever took.
I would not trade my baby girl for anything in life and it was a desire to give her a good and comfortable life that pushed me to go on with my college education. I am grateful to Antonio for getting a B2 visa and coming down to help me with our daughter. He stayed with me for six months and that was the time I was able to work out a plan of action to move ahead.
Since my break was never to avoid college but just to postpone it so that I could get in a year of travel, I knew what stream I wanted to study. The problem was that I did not have the funds to go to college and with Natasha around; I knew I would not be able to work study and take care of her. There was the option for trying for grants but for that one has to be in a very high percentile bracket. A loan was almost an impossibility since I had nothing to offer to the bank. The fee structure was broke up into parts but the initial payment was high.
I began to consider taking up a second job, trying to save up and then maybe go back to college a year or two later. The economy had crashed and jobs were not easy to come by and I was not even sure if all that education was going to help me in getting a better job. Antonio was two months left and he was pushing me to get my life in order before he had to leave.
At this point we met a distant cousin of Antonio's who came over for dinner. She was a single mom too and was doing a EKG technician course from the Manhattan University. Talking to her was a huge boost for me. If someone who was a foreigner could get her act together, I sure could do the same considering that I was born and bought up in the country.
I began looking for grants and loans and any other financial help that I could get. While loans were not very easy again due to the collapsed economy, I fared better in the scholarship arena. I began by looking at private grants. A common mistake that most of us do is to only look at the scholarships that the college is offering or the government makes available. There are a lot grants that work on a private basis too.
A good link for private grants is http://www.singlemom.com/institutional-and-private-financial-aid-resources/. I for one found a lot of information here. I applied for the Flora Prince Scholarship and managed to get it too. The money helped me with the initial boost that I needed and since I got a partial grant from the college too, I was able to makes end meet without having to take up a second job. This worked fantastically in my favor. By the time Antonio left the States, I had managed to get all my paper work in order.
I have finished two semesters of my graduation course already. Things are looking good for me and my daughter both. Her father is a part of her life and tries to visit as often as possible. He is a good man but not one looking to get married. He has a large family back home and his siblings and parents all depend on him. Going back to college worked in my favor and I am glad that I met Antonio and had Natasha. It may not have been exactly how I planned it, but I got a lot of good out of it.
Most of the time the desire to work hard and succeed comes to me from my daughter. The drive that I want to give her a good life is rather large in my case. With some research I was able to manage the financial aspect of my studies. Ladies, I will tell you this, while it is not going to be a cake walk and you will have to study hard and work hard too, the effort that you put in now, you will reap for the rest of your life. So do not make the mistake of ignoring a degree. Conquer your hurdles and get all the help that you can and move forward in this arena.