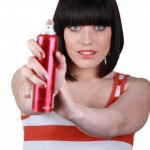 When single moms get back to dating they are often forget to keep the guards up. Not having dated for sometime makes single moms trust men more easily, and this could get them into some serious trouble. Like any other woman on the dating scene, single moms also need to be realistic about expectations and their safety in particular.
Below are some such tips that will help single moms to keep themselves protected physically when they begin to date again:
Pepper spray - It is crucial to always keep some protection in your bag, irrespective of where you are going. Keep in mind that attackers do not always pick late nights to strike and sometimes you could find yourself in trouble even in a car. A can of pepper spray will keep you out of trouble and offer you great temporary protection. So along with your makeup do not forget to throw a small can of pepper spray in your evening bag when stepping out on a date.  Statistics go to prove that the pepper spray has been very effective in keeping women safe and many have used it to alter an attack on them. Pepper sprays are any day a much better alternative to guns and one that must form an integral part of every girl's purse content.
Information - Another important tip to keep in mind is that you must always let someone else know whom you are dating and also where you are going for your date. If your friends or family know the name of the person you are dating and the destination that you are going to, it does make your date much safer. Always let your date know that there are others who know where you are going and with whom. This is a very important safety tip and one that is often overlooked by single moms who begin to date again.
Public places - As a single mom getting back to a dating scene, you may often not be too concerned if the man is calling you over to his home for a home cooked meal. However, this is not a good idea. Always keep your initial dates restricted to public places till you can be sure of the person. Then you can slowly move into a more private setting. Going into a private space before you are sure of your date is definitely compromising your safety and does have potential of going wrong.
Single moms should not get carried away with their dating and presume the best of everyone they meet. Remember you owe it to yourself and your kids to never compromise your safety. While paranoia is not being suggested here, caution is and you must maintain it at all given times. So keep the tips listed above in mind and think up of some of your own so that you are sure that you are safe before you step back into the dating rink.