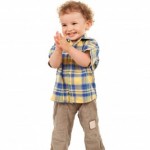 A lot of our adult life health has to do with our habits and exposures during our childhood. This is why as mothers we need to be very careful about our children's eating and exercise habits, if we are looking to help them grow into healthy adults. Some tips to help cultivate healthy living habits in our kids:
Balanced Diet – The foundation of a healthy life is a balanced diet, and as mothers we need to make sure that we expose our kids to this eating pattern. Helping them understand the food pyramid is crucial so that they don't feel you are forcing them with certain foods. Teach them how they need to get in a portion of proteins, some carbohydrates, some minerals and vitamins, etc. The more they understand healthy eating, the easier it will be to feed them healthy options. While teaching them the food pyramid, offer them foods in keeping with this pyramid. With healthy and tasty options to choose from, these kids are sure to make a balanced diet an integral part of their lives.
Exercise - Another important corner stone of a healthy life is proper exercise. It was bad enough that kids were glued to the television sets for hours but with computers now it's gotten worse. Of course the smart phones and video games are no help either. Getting children to go out and play a simple game of ball is also a tedious task. Encouraging your children to follow an active sports life is the need here. Make them join various games like hockey, football, cricket, swimming, skating, etc that will help them to exercise. Even if the child is not very sporty and is not excelling at any of the games, do not stop the activity since it is helping provide the kid with exercise. The more active they stay physically the better it is, since this activity will help them exercise even as adults.
Self confidence – A large part of growing up healthy is to have a good self confidence level. Due to peer pressure kids will often try out crash diets or pills in order to lose weight and 'look' good. We need to cultivate a sense of confidence in our kids and promote the idea that being thin and being healthy is two different things. Helping our children understand to appreciate themselves as individuals and not try and mimic other body types is an important lesson. For this one needs to promote the child's self confidence level and show appreciation for his/her achievements as opposed to trying to make them 'look' the right way.
Children are quick to learn and if as mom's we practice what we preach, the lesson gets home sooner. Do not open a bag of chips every evening while watching our favorite sitcom and expect the kids to eat a fresh vegetable salad and go out to shoot hoops or play football. If they see you following your own healthy ways, they are bound to follow it up in their adult lives as well.