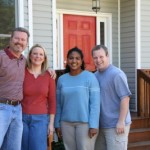 A divorce is not just the end of one relationship. Most divorced couples will talk about how their entire social circle came crumbling down after their divorce. Some friends will choose sides; others may just stay away and soon the parties that you would be invited to as a couple will have no place for you as a single.
The friends we made during our married life do play a huge role in our lives and there is no reason why one should lose out on these relationships after divorce. The problem sometimes gets even more complicated once you start dating again since friends from your older marriage may not know how to deal with this situation. With just a few tips you can keep dating and also maintain a relationship with these friends.
Host the introduction party – Instead of taking your date to another friend's party where you may worry about the people that you may meet, host the introduction party. Organize a get together where you invite your date and also call your friends. Let them meet on common grounds where your date is also comfortable and your friends are also easy. No one needs to feel uncomfortable and worry about having to explain to your ex where they met your boyfriend.
Maintain old relationships – Once you have made the introduction, do not force your friends to invite your boy friend for every gathering. If they do invite him, that's good, if not, you should be happy to go by yourself. Remember these are your friends and you must keep a relationship with them which is independent of your dating status. Do not grudge them the fact that they do not want to take sides but instead enjoy your friends for the fun you have with them. Your divorce does not mean that they have to pick you over your ex.
Do not ignore old friends – It is great that you have moved on after your divorce and are dating again. But if this dating is taking up all your time and you seem to be hanging out with only 'his' friends then you could be in trouble. Remember that in case of a break up these new friends will all be his friends and you would have lost your older ones too. So do not make the mistake of ignoring your old friends and do continue to hang out with them just like you did before.
It does get very difficult to choose sides when a couple decides to part ways. Friends hosting parties often wonder if it is going to be alright to invite both partners or not. Unless you step up and prove your majority, you may find yourself losing out on a lot of friends. So keep the tips listed above in mind and go on to maintain your relationships with your friends without the divorce damaging it in any way.