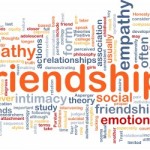 Relationships — we love them and hate them at the same time. Why are they so hard? We can't live with them and we can't live without them. It's easy to have a relationship with our children when they're young — they worship us. What about when they're teenagers? We suddenly become the biggest nerd on the planet and have no clue what we're talking about.
What about dating? In the beginning our relationship is fun, romantic, and we hate being apart, but after marriage the relationship becomes a chore. Healthy relationships take ongoing attention and effort. Giving people the freedom to be themselves while trying to get our needs met is a challenge. Where is the balance between the two?
In Melody Beattie's book, "The Language of Letting Go," she writes, "The more we work through our family of origin issues, the less we will find ourselves needing to work through them with the people we are attracted to. Finishing our business from the past helps form new and healthier relationships. The more we overcome our need to be excessive caretakers, the less we will find ourselves attracted to people who need to be constantly taken care of. The more we love and respect ourselves, the more we will become attracted to people who will love and respect us and who we can safely love and respect."
We all have a belief system that was formed early on. Do we need to examine and challenge that belief system? Are there parts that enhance our relationships and parts that hinder our relationships? Let go of the old and replace it with new healthy ways of relating. There are many books out there to assist in this process. I have listed a few of my personal favorites below. You may also want to see a counselor or therapists to work through past issues. Many professionals will assist you on a sliding scale to fit your budget – don't be afraid to ask when you call.
A clear sign of the need to change is when we continue to attract the same types of relationships that don't work. Whatever your choose the important thing is to get out of the cycle of unhealthy relationships and move forward to a life you desire and deserve!
Do your relationships feel nurturing or stressful? Do you feel you deserve to be treated better? What do we want and need from your relationships? What is important to you?
Recommended Books: Boundaries, Townsend & Cloud; Codependent No More, Melody Beattie
Written by Renee Blankenship