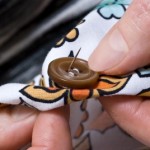 are not an inexpensive item these days and in fact in some cases a pair of jeans or shoes for a child will cost almost the same amount as the same item for an adult. But while as adults out clothes last much longer, kids tend to out grow their clothes in a jiffy and worse still damage them while playing around.
Since buying new clothes for kids all the time can cost quite a lot, repair is a necessary skill required here.
Below are some repair techniques that can save you a lot of money on kid's clothes:
Buttons – There is something about kids and buttons. If a button can be pulled out, the kid will manage to pull it out sooner or later. This is why it is important that when you buy a garment for a kid, you make sure that it has some extra buttons sewed in with it. Keep these buttons safely in a box for times when you will need to sew it in when the child pulls the button off. It will also help to sew the buttons on the garment firmly right after the purchase so as make it stronger and less likely to fall off.
Patches – Most kids will rip their clothes off from the knee joints. A new pair of jeans ripped at the knee can ruin the clothing piece. Patches come in handy here. There are several patches that you can buy which need not be sewed on but can be placed firmly in place with the help of an iron. These patches make the jeans look cool and also hide the damaged area of the garment nicely.
Stain removal – Children clothes and stains seem to have a magnetic attraction going between them. Many moms have had to throw away brand new clothes because the kids managed to get a large ugly stain on it. Learning how to remove the stains from the clothes is a trick that every mom must learn. Using natural dyes to color the garment is also a trick that will help hide the stain and lend a new lease of life to the garment.
Stitching techniques – Right from hemming to basic stitching it is important to learn all these techniques. There is a truth in the saying 'a stitch in time saves nine'. Kids will often rip open their clothes and if you know the stitching tricks you will be able the repair the garment and prevent it from ripping further. Learning how to use a sewing machine will also help in repairing your kid's clothes and altering them too.
Repair tricks can help you save money on having to buy new clothes and also ensure that your kids are dressed in a smart way. So keep these repair tips in mind and learn as many of these techniques as you can. Keeping a sewing kit in the house is of course as important as having a first aid kit at home, so do get your sewing kit in order as soon as possible.