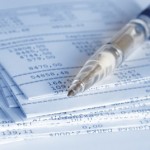 With the 2013 ended, it's time to reflect upon the past year, appreciate the good, make peace with the not-so-good, and identify areas of our lives that we'd like to do better in this new year.
Many people resolve to lose weight, exercise, or eat healthier, a resolution that I believe is brought on by holiday weight gain.  Physical health is important.  I believe it's one of the most important parts of life.  But too often, people find their healthy resolutions too difficult to live with on a daily basis and quit after just a couple of weeks.
Although I highly encourage you to make health a priority, especially by not consuming GMOs, I have a suggestion for a different kind of health-related resolution for 2014.  Why not resolve to improve your financial health?
I don't know about you, but I find it much easier to balance a checkbook every month than to give up chocolate for the year.  Rather than jumping on the buy-a-new-treadmill bandwagon, why not go with an I'm-going-to-spend-my-money-wisely resolution?
Budgeting is not as difficult as it sounds.  It's only as restrictive as you make it.  Your budget is the tool you use to stay in control of your finances.
If you need help getting started budgeting, ask a friend who budgets, search online, or borrow a copy of my book Basic Budgeting from your local library.  Then, at the end of 2014, when you reflect upon how your year has gone, hopefully your finances will be on the good, instead of the not-so-good, list.
Article by Randi Millward