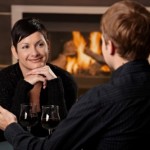 A large part of recovering from a divorce is getting back to a dating life. However, it may be a tad difficult to think of you as a single person and more so for those who have kids also. It is believed that getting back to a dating life very soon after your divorce may end up as nothing more than an affair, while waiting too long may make you feel you miss out on life. Indeed judging the right time to date after a divorce is not an easy task.
What maybe the right time to date for you may or may not be the right time to date for another person. Of course this decision is very personal. However, there are a few tips that will help you to judge if the time is right for you to get back to a dating life after your divorce. Some of these tips are discussed below:
Self Peace – The first objective after your divorce should be to gain peace. Having let go of a major relationship in your life it is obvious that you will grief and will be in pain. Do not go out dating in this state of mind. It is best to learn to give up all the negative thoughts and heal before stepping out again. Once you have achieved your peace of mind and you feel strong again, then it would be a good time to move on. Moving on before this will leave unresolved feelings that are bound to affect you badly.
Self reliant -  A very important aspect of getting back on your feet after a divorce is becoming self reliant. While most of us will stop are financial reliance, the emotional aspect is also very important. Before you step back into the dating arena again, it is crucial that your confidence is not low and you are sure of your personality and status. Being emotionally and financially self reliant is a good indication that you are ready to step out into the dating world again.
Kids are comfortable -  A very important aspect of dating after a divorce is the comfort of the kids. A divorce usually affects the kids badly and they may feel that their parents have abandoned them. In case you begin to date too soon after your divorce, you may end up harming the kids emotionally. It is important that the kids are comfortable with their new situation and are not feeling abandoned by you in any way. Once the children are well settled then you could talk with them and then return to a dating world with the ease that the children are aware of the situation.
Dating after divorce is inevitable but if you time it right, the success of the dating is sure to be higher. On the other hand if you date at the wrong time, then things could worsen and this may make you feel all the more bad. So time your dating schedule keeping in mind the tips listed above.