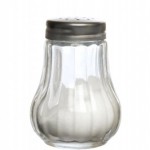 Many of us see salt as nothing more than a tastemaker and will keep it restricted to the purpose of adding flavor to our foods. However, the benefits of salt and its uses go far beyond just adding flavor to our meals. This is the reason why salt finds a place of prominence in several age old cultures. Right from helping with bleeding gums to working as a fantastic cleaner, salt works for it all.
Some uses of salt, apart from our food are listed below:
Industrial Usage – Statistics show that over 40% of the salt produced in the world is used by industries and most of them transform salt into soda ash and chlorine. Right from soaps to detergents, cell phones, cosmetics, pipes, medication and even digital cameras, flat panel television and textile, glass, rubber and leather, the manufacturing of all of this uses salt. The uses of salt in the industrial world are several and it is due to these uses that about half of the salt produced in the world is absorbed by these industries.
Salt on roads - Those of us who live in regions where it snows heavily know that salt is often used to keep snow covered roads safe for mobility. In order to combat the snow apart from rock salt and solar salt, even evaporated salt is used. The fact that salt costs little adds to the charm of this substance. In fact it is believed that the cost of using salt to keep the snow laden roads clean for an entire season is less than the financial loss that occurs in a day if the highways are blocked (due to snow). Salt is used both to melt the snow after it has covered the roads and also as a precautionary measure before the expected snowfall. As a negative, it is true that the use of salt promotes rusting in cars.
Animal feed – Just like we need salt, animals have salt requirements too.  Poultry, Livestock and some pets do require salt for wholesome growth. In fact even in the wild, animals are known to be drawn towards sodium chloride sources other than water. It is believed that the Ancient Greek used to feed salts to their livestock and pets so that the animals would grow better and perform better too.
Hard water softener – Hard water is known to cause a lot of damage. Not only does it damage your hair and skin but it also deposits calcium and magnesium in the pipes and tanks of your home. All of this can be combated by using a salt regenerated water softener since these help soften hard water.
The fact that we have these large water bodies namely seas and oceans that promise us immense amounts of salts is very heartening indeed, since we use salt extensively. It is believed that there are over 14,000 uses of salt which goes to prove that our salt is so much more than just a taste maker.