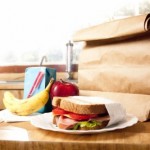 I hate throwing food away. I don't like being wasteful, and I know it doesn't set a good example for my children. Sometimes though, there's food that they just won't eat, and I don't know what else to do with it.
Example: I could serve the same pot of chili for a week straight, and my children would choose to starve for an entire week rather than eat chili.
The problem is, as their tastes change, I never know whether or not they're going to like, or eat, dinner. I try to include them as much as possible by asking them what they want to have for dinner, letting them help make it, and letting them set the table, but sometimes even that doesn't work.
Food's not cheap, and it's getting more expensive by the day. I hate throwing money away when I toss uneaten food in the trash, but if no one's going to eat it, there's no point in keeping it – unless I can "recycle" it into something else, like turning garlic toast into stuffing or rice into rice pudding.
I try to "recycle" my food as much as reasonably possible, but there still always ends up being uneaten food. Sometimes it's because the kids don't like it. Other times, it's because there's only a single serving left that seems like it wouldn't be worth reheating for a large family. In the end, it always seems like I end up throwing out food, even if only a little bit, every day.
However, I have started to realize that I'm not the only one in the world who wishes they didn't spend so much money on food. Now, instead of throwing food away, I save it – for someone else. I've taken food to my widowed neighbor across the street. I frequently freeze single servings of leftovers for my single mom and save them for her until she comes for her monthly visit.
Now, although my family isn't eating all of the food that I buy, I stress less about it because I no longer view it as being wasted money. It may not directly benefit my family's finances to give food away, but it does benefit the recipients of the food, and it does bless them financially by saving them money on their groceries. Besides, what goes around comes around. The Bible says "give and it shall be given unto you". What better what to teach my children generosity, love, responsibility, and a giving heart than by leading by example.
It's easy to get caught up in my own finances, but I really should take the time more often to try to help others. After all, there's a lot more to life than just money!
Article by Randi Millward