The sun was just coming up and dark clouds still hung in the sky. Emma stopped just before the wooden dock. This was her last journey down the dock in her wheelchair. She could feel him close by just as she did every morning, the creature that saved her. But what if he didn't save her this time? Suicide was the perfect ending for the tragic weird girl. Ever since her mother had become a crackhead and her father abando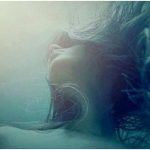 ned her, the town had disowned her so it's not like they would miss her. Her death would just be another entertaining story for them to gossip about. They would never know the real reason she did it. They would never know what existed under the dark waters of Old Berwick Maine.
We can't stop until we find them Emma, she could hear Donovan's voice clear and sharp as though he were right there and as alive as she was. Her hands became sweaty and her heart flooded her body with adrenaline as she continued down the dock, the wood creaking under her. Emma stopped just before the edge of the dock. The wind was picking up now spraying white foam over the water just as it had the morning her only friend died.
She closed her eyes and allowed the memories to come back. It had been a windy morning and the waves were loud as they crashed against the rocks but they had both heard that beautiful enchanting voice. It was beyond anything she'd ever heard from an animal or human and the most logical explanation had been that they were dreaming…but they weren't. Donovan trusted her and she'd convinced him to follow her dumb sixteen year old butt out onto the rocks. That beautiful sound though. She could hear it now pulling her further out onto the rocks with Donovan following cautiously behind her. Her heart began to pound as she thought about the excitement she'd felt. They were right there just about to peek over the edge when a wave crashed into them. She could hear the thud of her body hitting a rock below and the strong grip wrapping around her waist and submerging her into freezing cold water. The solid pressure rocking against her limp body from the vibrations of something strong as it propelled her through the water, the golden eyes that flashed briefly and then blackness. Had it been Donovan who'd saved her life before he died? Not likely because according to the police, he'd died on impact. He had died because of her but their dream was still very alive inside of her and today was the day that she would make their dream come true or die trying.
The waves crashed against him, alive with the energy of something he couldn't quite explain but he could feel anticipation rising in his chest. She didn't look as lonely as usual. Had she finally accepted that her friend was gone? His jaw tightened as a wave of guilt passed through his body. He tried to save the boy that morning but the human was already dead. Still if it hadn't been for his naïve fascination with humans, he wouldn't have lured them to the boy's death.
Kellen watched as his beautiful human pulled her blanket tighter around her shoulders and his muscles tensed with the desire to warm her in his own way. It would be so easy to make her his, to lure her into the water with his voice once more. He would grab her, pull her close and make sure she never missed her legs again. With him, she wouldn't need them any longer. Adrenaline flooded his cells and he tightened his fists against solid rock. Damn his desire was becoming too strong. He wouldn't be able to control it much longer. By natures law he would have to take her soon. If not for his father, the king, she would be his by now. But his father was a big threat and Kellen knew that if he could banish his only son, the future king for imprinting on a human, he would surely try to kill any human that came into his world. His father didn't believe in mating with humans. They were selfish, evil creatures that had no place in his peaceful world. But his idea of peace was demented as far as Kellen was concerned. His father controlled with rules and fear. One day though his father would die and Kellen would return to take over with his human by his side.
Emma's heart was nearly in her throat. He would come for her today too just as he had that morning. Please save me, she pleaded silently. Fear mixed with excitement as she glanced down at her phone. 6:30 a.m. Five minutes from now Elaine would get her scheduled text as a backup just in case her plan didn't work. Elaine, bless her heart was the only one who believed Emma that a mermaid had saved her that morning. Or well at least something that wasn't human. She was the only one who hadn't declared Emma a crazy and hopeless loony. Emma laid her phone and bag on the dock next to her wheelchair. Her fingers, shaking nervously lost their grip of the afghan that was covering her tiny frame to the wind. She watched as it blew a short distance before settling in the murky water.
"Today is the day Donovan. I love you". Emma locked the wheels and gripping the sides of her chair, she lifted herself up and over the edge. Smack, sharp pain gripped her head as it caught the edge of the dock. The dark cold water swallowed her and she felt herself gasp for air as the cold shocked her skin. Instinctively she tried to kick her legs forgetting they were useless and she flailed wildly with her arms to compensate. There was no turning back now. She had given in to faith and her destiny would be decided soon regardless of her actions. Her chest tightened as she used up the last of her air. Blood pillowed around her in soft clouds. She closed her eyes and let go of the fight letting the ocean water swallow her deeper and deeper into the darkness. Her head tingled from blood loss and reality began to fade.
Donovan appeared to her just as he was the first day they had ever met. Poorly dressed, scrawny and dirty just like her but together their world was much bigger than the uncaring one they were born into. That day they had become each other's only friends and he had joined her journey to find mermaids.
Kellen fought the urge to cry out. She hadn't come to the dock this morning to mourn the loss of her friend. She had come to give up. Instinct rose in him with fury. She was in the water and more accessible to his taking than ever. His jaw tightened with hunger and his eyes burned golden with heightened acuity. He submerged his head under water and almost immediately was overcome with the scent of her blood. Iron mixed with dark cinnamon hit him in solid waves as though she was right next to him. The war within him raged. Hot energy filled his long emerald tail and torso readying him to make her his. Her smell tortured his mouth causing it to crave her taste even more. He wanted her now…needed her but he loved her. No matter how strong his need for her was he wouldn't risk her at his father's hands. His father would stop at nothing and as much as Kellen hated him for it, he couldn't kill his own father. But sometimes…
Kellen shook the thought off before it could finish. Emma needed him and she needed him right now. Narrowing his eyes, his heightened senses allowed him to see for miles. None of the fishermen were out yet. There was no one to pull her out of the water. Damn! Metal mixed with heavy cinnamon crowded the air and water around him. She was losing more blood by the second. Her life was his to save or lose now and time was running out. If he got any closer he wasn't sure he could keep from turning her but there was no one around and if he waited any longer, she'd die.
Time had run out. Forgive me if I fail her, he prayed silently and the force of his tail sent him piercing through the darkness with urgency stronger than he'd ever felt.
Ten long years since she had last been in the water and she had forgotten how light her body felt in it. Her thoughts were blurred from blood loss but there was one thing for sure. Donovan was right there in front of her. His face was white now against the black water, the only light in the silent darkness. He reached out for her, his fingers splayed just in front of her. He was so close and all she had to do to touch him was lift her hand. Though he was smiling, he looked sad. Emma fought unconsciousness to not let his image fade. She tried to reach out to him but the weight of the water was too much for her lifeless body. "He'll save me…our mermaid Donovan", her mouth barely formed the words but it was all she could offer her only friend. She was dying but she wasn't afraid. No more living with the guilt of Donovan's death, no more hearing people whisper about her from corners of everywhere she went and no more feeling like she'd been born in a world where she didn't belong. Her eyes were heavy but she fought the weight to keep them open. She wanted to see Donovan as long as she could. He was fading and she tried so hard to lift her hands to him. His eyes faded to black hollows and his face followed but before the darkness could take him completely, two golden eyes flashed before her. Solid muscle wrapped around her waist and she was flying upward against the water. Solid pressure hit her in waves and the warmth that pressed against her was familiar. She wanted to keep feeling it but unconsciousness finally won over her and she let go.
She was so cold and lifeless but damn if he didn't have to push his raging desire to take her right then and there down. He reasoned that he held her so tightly to protect her but there was no denying that his instinct to become one with the woman he'd claimed was taking over his body. He pushed it down and his body tightened against her as he raced toward the surface. Her heart was slowing against his chest and her blood continued to flow from the gash in her head. He placed one hand over the cut as they broke to the surface with so much force that waves broke away all around them. Life giving energy flooded his blood warming his lower half. He wanted to give it to her but doing so meant she would become something she could never turn back from. She would become a mermaid.
"I have to give you another chance Emma", Kellen whispered against her cheek, troubled by the conflict rising in him. He wrapped his arm around her waist even tighter giving her warmth and letting her head rest against the palm of his blood covered hand. Mermen protected their own at all costs and she wasn't safe here until he could take over his father's rule. The animal in him disagreed and tempted him to give in and take her, to kill his father.
A cold breath laced with cinnamon escaped Emma's lips and landed on Kellen's. It was her last. Blood pooled around them in the water taunting him with the life that had escaped her. Kellen closed his eyes, clenching his jaw, trying to hang on to any last thread of humanity within him but it was too weak now. He had held on to her for too long fueling the animal in him until it was dominant. It raged, breaking through. His eyes opened, pure gold and piercing through every cell of her body as he held her afloat, changing them. Heat gathered in his own body breaking the surface and entangling hers to his. Humanly she was dead but the cells in her body were alive with his energy and working rapidly to bring her back.
Cold, sore, her body being jolted by electricity, Emma slowly opened her eyes from what seemed like a deep sleep. Two fiercely golden eyes so close she could make out the small black specks in them were staring at her. She tried to push away but two firm hands, one around her waist and one protectively around her head held her in place. She tried again and again but she was too weak. Heat shot through her legs and she kicked as they came to life, strength gathering in them. Her whole body was shaking with energy now and feeling completely helpless she curled into his body and closed her eyes.
A low enchanting voice whispered against her ear and his hand stroked the back of her head gently. There were no discernable words and his language was not even human but she recognized his voice. The same voice she'd heard with Donovan. Suddenly everything came back to her with force. Donovan was dead. She was paralyzed. She'd jumped in hoping that he would save her. Her legs, she could feel her legs. It was him and he had saved her…again. Her body stopped shaking and she pulled her head up opening her eyes to look at him. His eyes were no longer golden but a calm emerald green. His skin was perfectly smooth and his features were dark and intense. Drops of water gathered seductively on his lips stirring a new passion in her. Her body was so alive and every wave of water causing friction between their bodies weakened her with desire. He dropped both his hands to her hips and pulled her against him even tighter. Heat fell between her legs and scale covered muscles fused to her heat leaving her legs useless again but more sensitive to touch than ever. He was in her and controlling their every move. He caressed her with his tail and her body moved with him sending heat and desire upwards to her mouth. She could feel his possession, no words needed. His hands rocked her hips back and forth providing comfort and inescapable desire as she changed. She could feel the change happening, she was giving in to his claim. She didn't fight it. He spoke to her again, this time his language recognized by her body. He loved her and she was becoming his. The heat of his breath demanded she open her mouth and her lips parted willingly. His mouth pressed against hers possessively and she gently licked the water off of his lips.
He refused to let go of her mouth and she didn't need him to. She was no longer breathing and there was no need for air. He rocked her against him harder and faster and her mouth opened wider with the need to take more of him in. Her changing body needed him and her legs opened wider as his tail, hot and smooth muscle possessed her deeper and deeper until her legs melted into him. Emma tangled her fingers into his long wet hair pulling his mouth even further into hers. She had never wanted anyone or anything so much. Her desire for him was primal, animalistic and the last bit of humanness was slipping away willingly.
Long intense waves of heat rocked through her gathering and building in the most intimate places of her body. His fingers moved to feel the silky fish scales that now covered her butt and he looked at her, pleased with what his hands were grasping. He dropped his mouth to the curve where her neck connected with her shoulder and tasted her slowly with his tongue. Her skin was so sensitive to his touch that every cell in her could feel the wetness of his tongue. He lifted her slightly, the friction below causing the gathered heat to explode. His tongue found the tip of her nipple and sucked it into his mouth sending her over the edge. She cried out against him and he held her firmly allowing her to fully give into the rush of pleasure she felt. She fell back down into his hold, her fingers still entangled in his hair.
In the distance a siren sounded from approaching police cars. Elaine had gotten her message and had called for help. Emma turned towards the direction of the siren.
"You can no longer be a part of that world Emma", his voice, she could understand him easily now. His hand cupped her chin pulling her gaze back to him. "You are what I am. You're a mermaid and they won't understand". Fear tempted her but quickly dissipated as soon as she looked at him. She had felt his love for all those years but until now, it had left her feeling alone and stuck in a world she didn't belong in. But here surrounded by endlessness and the feeling of being one with him felt more like home with every second. She belonged here, was here…finally.
He wanted to tell her of the danger that waited for them below but she needed time to take it all in. He had selfishly possessed her and though it had come down to letting her die or turning her, she'd had no choice. She was his now and no matter the danger his father posed, he would make sure that nothing harmed her. He would plan and kill his father as soon as her change was complete and it was safe to let her swim freely.
They watched as the police car pulled up to the dock in the distance. She curled against him for comfort and he could feel her love for him. It settled deep inside of him. He gave her time to silently say goodbye to the world she once knew and then taking her hand he led her gently into her new world.