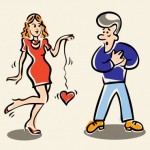 Single moms often take time to get back into the dating scene. The emotional jolt of having to raise the kids alone and losing out on your partner can take a toll on single moms. They will often battle a lot of other problems before they reach the dating question. In some cases a single mom may decide to date within a few weeks while in others the mom may wait it out for a much longer period. When one begins to date again is purely a case of personal choices, temperament and of course circumstances.
However, there are a few signs that do indicate that you are ready to get back to a dating scenario and knowing these signs will help to make a better decision in this regard:
Overwhelming sense of loneliness – Another important sign that it is time to step out into the dating arena is when you find that your sense of loneliness is overpowering you. While feeling alone sometime is quite normal, if you find that you feel lonely even in company and constantly miss having someone in your life, this is a sure shot indication that you are ready to date again. It will do well to step out and meet new people here and keep an open mind about it. Simply trying to bury the feeling would be futile while dating again will help you to feel better about yourself and you will be able to work with a more well thought out pan for your future.
Negativity dying down – It is normal to feel a lot of negativity when you step into the role of playing a single mom. Anger, frustration and lack of patience cloud almost every judgment of yours. However, over time you will begin to heal and as you heal the negativity in your life will also drop drastically. This is a good time to support the good vibes in your life by stepping back into the dating world. Meeting more people, dating again and giving yourself some importance will help you to keep the negativity low and the happiness quotient high.
Miss the physical intimacy – You begin to miss the physical intimacy with a partner. Suppressing the feeling will only frustrate you further. The best move here is to step out and begin to date once more.
These are just a few signs that will help you to know when it is time to step back into the dating rink again. Dating will help you to pick up your life and move forward and it is not an activity that you should fight or put off.