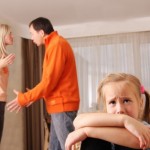 Of course as a single mother you have every right to step out and find love again. Going back to dating is not only important for you but it can also work wonders for your kids. If you find a man who can offer them support and love, it will help them to build their confidence levels. However, sometimes things may not turn out this hunky dory. There are times when boyfriends have been found to be abusive towards the kids of single moms that they are dating.
Sadly, in these cases, the children never come up and complain openly about the problem. Some mothers are not sure if these complains are real or is the child simply making up stories in order to break up the two. While there is no denying that the situation is not really an easy one, there are some signs that will help to identify if the child is in fact being abused. Some of these signs are detailed below:
Fear – If you date is making the child fearful and scared, there is something definitely wrong with the interaction. If you find that your child shows signs of fear at the mere mention of your date or is scared when your date comes over, then taking to the kid maybe a good idea. Get to the root cause of the problem before you dismiss it as just a phase.
Strange behavior – There are kids who will suddenly behave in a strange way which maybe very different from their natural self. If your dates presence is making your child behave overtly shy or makes the kid go into a shell or even throw a tantrum, try and figure out what is going on. You could ask direct questions like 'does this have anything to do with the man I am dating'.
Unexplained body marks – If you find that after you have started inviting your date over, the kids have some marks on their body that are unexplained, it maybe time to look into the issue immediately.
Sexual behavior – In case the child is displaying a strange sexual interest that is not in keeping with his/her age, this again could indicate a problem. Of course it is important here that you try and understand what is going on and this is possible only if you have the child's faith.
Overly interested – In case you date is too interested in the child and you find that this interest is unhealthy and is making your child uneasy, this too can be seen as a sign that things are not all good.
If you see any of these signs or if your child does complain, do look into the matter seriously for even if you are sure that the child is making up a story, it may be time to wonder why. Children are easy to take advantage of and as a single mom it is your duty that you keep your kids protected in all ways possible. So no matter what the circumstances never ignore a sign that may indicate that your date is abusing your kid. Remember it is always better to be safe than to be sorry.