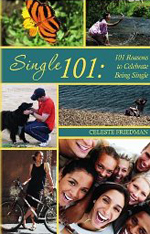 Celeste Friedman opens a Pandora's Box of what lives in the hearts of single men and women, as well as those who miss being single. Revealing funny truths, common principles and basic needs, Single 101: 101 Reasons to Celebrate Being Single salutes those who enjoy their independence and fearlessly tread outside of the mainstream. Today's single men are striving to build wealth and status, as single women are focusing on not only their careers, but gaining self respect and self worth. Millions of singles are discovering there is more to life after the loss of a spouse. Single mothers are achieving they dreams. Statistics show that more people are choosing the single life after divorce or failed relationships. Single 101: 101 Reasons to Celebrate Being Single is a fun and entertaining way of sharing the advantages of flying solo.
About the Author

Author and singer-songwriter Celeste Friedman claims that after two marriages and a few boyfriends who temporarily played the role of Mr. Right, she has been far more successful living alone. Over the years, she has journaled her experiences in and out of relationships, unleashing common principles and basic truths in her book, "Single 101: 101 Reasons to Celebrate Being Single".
Since opting to fly solo, Friedman has been nominated for a Grammy Award and two European Indie Artist of the Year Awards; scored for a Pulitzer Prize nominated play; received several awards in music and education; nominated for two Pat Weaver Awards for contributions in television; and her work has been featured in the Ottawa International Animation Film Festival, as well as Festival de Cannes in 2008.
Critically acclaimed as a prolific songwriter and passionate performer, Celeste leaves you inspired as well as entertained. Noted as a brilliant raconteur and a painter of lyrical portraits, she is the granddaughter of big-band leader Leo Reichert.
In March of 2009, she released her GrIndie Award winning album, "Live at the Bluebird Café", featuring live performances over the past 15 years at the famed Bluebird Café in Nashville, followed by her 2009 summer release, "The Tide", including inspirational and Gospel originals.
Friedman was chosen as one of the 50 writers from the 50 states in 2007 by the organization "Music For Troops" and included in their compilation, "All States, All Stars", featuring her haunting ballad, "Wild Horses". 20,000 copies of this 3-CD boxed set was sent to our troops in Iraq and Afghanistan. In 2009, Music For Troops selected Ms. Friedman again for their "Operation 11.11.09″ compilation, beginning with her song, "A Home Run" as the first track.
Nominated for a GRAMMY Award in 2005 and the winner of the 2005 Ohioana Library Citation Award in Music and Education, Ms. Friedman's contributions have been recognized by The Points of Light Foundation, The Ohio State University, Voices of Hope, The Ohio Bicentennial Commission and the Department of Education of The State of New York. For her music works featured in both 1995 and 1997 MDA Telethons, Celeste is the recipient of two Pat Weaver Award nominations. She was nominated for Indie Artist of the Year for 2009 and 2010 in The Netherlands.
"a painter of lyrical portraits"
. . . Legend Magazine
"everyone should be singing her songs!"
. . . Craig Harris, The Boston Globe
National media credits include National Public Radio, Music Choice, A Prairie Home Companion, Live! with Regis and Kelly, BlogTalkRadio and the ESPN Network. Internationally, her music has garnered global airplay and rave reviews, topping the charts to Number One in Austria and Italy wih her CD, "Every Tear I Know".
Celeste has collaborated with several film students in short films, documentaries and animation from The Rhode Island School of Design, Columbia College, USC and The New York Film Academy.