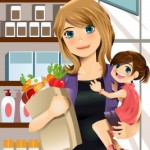 There are a lot of definitions concerning lone parent families which can be taken in to consideration principally through the literature of the society and its cultural viewpoints towards the lone parents and single parent families, such as "Lone parent, single mothers, female-headed households and sole parents are all terms used within literature to define a lone mother". Nevertheless, far from the diversity in the definition of lone parents in each society based on cultural or social standpoints, the close definition of a lone or single parent family term can be referred to the "Single parent family is the term used for a mother or father who raises children below 18 years without help from the other parent".
"Statistics reveal that the number of single parent families is on the rise for several reasons as people are falling away from the traditional biological father, mother and children concept". In fact, it seems that Marriage has lost its sacred conception in the societies and the law has made it easier for divorce and remarriage among the people.
Another notable issue which has led to increase the number of lone mothers and single parent families is the cultural changes and cohabitation for more single parents.
Read the original research paper (.pdf file): The Preventative Factors of Employment among British Lone Mothers Receiving IS and JSA.