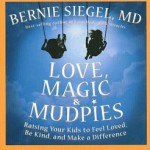 Book Description
During his many years working with thousands of patients and their families, Dr. Bernie Siegel became an expert on how to turn sometimes trying situations into opportunities for personal growth. In his newest book, this husband of more than 50 years, father of five children, and grandparent of eight, shares the gems garnered from his practice and his own family life to show readers what hes learned about raising kids with love, wisdom, and humor. How much time with you do your kids need? How do you teach your children values? When kids misbehave, how do you mix appropriate anger and discipline with love? What are some ways to help children adjust to separation or divorce? Should you get a family pet? With a wealth of quotes, anecdotes, parenting tips, and his comforting, caring, down-to-earth tone, Dr. Siegel addresses the myriad questions that parents face as they strive to guide their kids to happy, healthy adulthood. Delivered with just the right dose of compassion, inspiration, and gentle humor, Love, Magic and Mudpies is an insightful and supportive guide on every aspect of parenting.
Single parents are not all teenage mothers without jobs or child support, despite the common stereotypes presented in the media. There are many reasons for becoming a single parent — from divorce, desertion, or death of a spouse to an informed choice to go it alone. All single parents face difficulties, one way or another. The problems of an unmarried teen mother with no support are obviously very different from those of a prosperous 35-year-old father whose wife died of cancer, yet both are forced to cope with the emotional, psychological, and financial issues of single parenthood.
Single parents have more in common than they may realize. They alone are responsible for the lives of their children. They alone must help their children become decent human beings capable of giving and receiving love. They alone must encourage their children to dream big and pursue those dreams. They alone must find a way to pay for braces, proms, school trips, soccer equipment, piano lessons, college, and whatever else their kids need to become well-rounded, contributing members of society. And most important, they alone must be both mother and father to their kids.
Single parents have to learn to ask for help. Even if the practical issues of finances, housing, childcare, and education are squared away, family support remains crucial. Grandparents can be a vital asset. They are likely to be loving and accepting of everyone concerned, and they can teach proper parenting techniques. Support groups can also be extremely valuable. People who share the same experience understand as few others can. They are often insightful teachers because they have been there too.
Being a single parent is tough under the best of circumstances. If you are in that situation, please do not hide your wounds. Ask for the support you deserve. And when you feel discouraged or afraid, ask your child to hold you and make you laugh. You'll feel better instantly.
How to Make the Magic:
It's easier to take good care of your children when you put yourself in their place. Take time to sit down and write about it. For a moment, act as if you are not the single parent but the child of a single parent. What do you want and need? What would you ask your parent to do for you? When you do this exercise, don't worry about yesterday or tomorrow; just ask yourself how you can give your children the love they need today. Then keep at it, one day at a time. Know that a child who feels loved does not feel deprived.
Written by Bernie Siegel, MD – "Author of Love, Magic and Mudpies: Raising Your Kids to Feel Loved, Be Kind, and Make a Difference"
Buy the book from Amazon