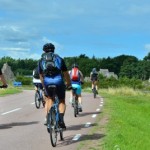 October is International Walk to School Month and events encouraging kids to walk and bike to school will pop up all across the country as a result. Walking and biking to school is a great way to help young people increase their daily physical activity and build healthy habits for life.
The Alliance for a Healthier Generation, a national nonprofit founded by the American Heart Association and the William J. Clinton Foundation to combat childhood obesity, offers these tips to help plan safe routes to and from school. For more information on how you can help kids in your community eat better and move more, visit www.HealthierGeneration.org.
1. Find a Partner:
Talk to other parents in your neighborhood and see who else may be interested in having their kids walk or bike to school. You can also approach your school's Parent Teacher Association to help form walking groups.

2. Scope the area:
Walk or bike the route yourself and check out the surroundings. Are there adequately posted signs and traffic signals? Does the route feel safe?

3. Lead by example:
Rather than drive your kids to school, walk with them and see them off to school after a nice walk. The journey can be an important time for you to bond with your child and also allow them to become familiar with the route.

4. Cut carbon, cut calories:
Walking to school translates to less traffic congestion in the neighborhood and a safer environment for those that are walking to school. Not only that, but it's a great way to get in the recommended one hour of moderate physical activity a day for kids!

5. Form a posse:
Not only is it safer to walk in groups, but it's a great opportunity for kids to socialize more with their peers. The more eyes and ears watching out for potential hazards the better.

6. Dust off that bicycle:
Biking to school can be a fun and refreshing way to start the day. Make sure you've got a sturdy helmet and tune up that bicycle for a safe, smooth ride.
Article from the Alliance for a Healthier Generation