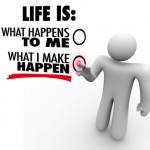 Academics were never me. I was a good basketball player and while I did not ever flunk a class, I was mostly an average student. Most of my high school days were spent on the basket ball courts practicing for the game. Once out of high-school I decided to sign up for a flight attendant job, and managed to get the job mostly due to my height advantage. The pay was good though the work hours were pretty erratic. I moved out of my parents place and took up an apartment with three other women, all working with the same airlines as me. Going to college was just something that I never even considered. I had a good job. Like I said the pay was good, and the day and night shifts did not bother me much since I was pretty much on my own. Like most 20 year old, I thought this was going to last forever.
After flying for about one year I began to date one of the pilots and the next year he proposed and we got married. Once I became pregrant, there was no more flying for me. Since my husband's income was pretty good, we decided that I stay home and focus on the baby. Things were good and while it was common for my husband to be gone for many days when flying overseas, this was never a problem for me since I had been the same industry and knew how things worked. Five years into my marriage, I had two babies and was a full time mom. Sadly by then my husband and I had grown apart. His job was keeping him away from the family and I was just too busy with the kids to enjoy him even when he was home. We had started to fight a lot and when I discovered that he was having an affair, I decided to end it with him.
The divorce was not too messy but once it was over I did feel a huge void in my life. Since I had gotten married and given up my job, my entire existence revolved around my family and now I just did not know what to do with this free mind space. Both my kids were going to school and I suddenly felt the need to get back to some sort of work. Of course there was no hope in the aviation industry and I seemed to have experience in only that area.  Almost any halfway decent job I thought of required me to have a college degree. This is the one time that I really regretted not having gone to college.
I looked up a few colleges, tried to see what courses may work for me and even worked on what kind of a job would suit my personality. But the mainstream did not have much to offer me. The whole process soon began to seem like a waste of time to me and I was soon giving up on the idea. Then one day, a lady at the gym casually mentioned that I was so good that I could even consider becoming a gym instructor.   Over the years I had kept my figure in good shape. I was a gym enthusiast and there were a lot of ladies who would often ask me about my routine. This got me thinking. While routine academics were not for me, I could follow a program that helped me better my skills in this area.
I began to look at trade schools instead of traditional colleges. I was surprised to find that there was a lot of training available in this area. There were many courses that would help me learn about the various aspects of weight loss, weight training and even nutrition. Right from how to warm the body to how to stretch and cool down to taking care of injuries and even how to work out when pregnant or after an accident or surgery, most of these programs offered it all. So the next thing I did was to find a course near to my place and enroll there.
What I signed up for was a 12 month training, and after that I also had the option to do the second level of training which was another 12 months. The certification worked wonders for me. Since I was already very fit and had been training myself for a few years now, the things I learned in the class seemed very relevant to me. I was interested in what was being taught and this kept me ahead in my class, a feat which I had not been able to accomplish ever in my life. Once I finished the training, I applied to a couple of gyms, and manged to get a job almost immediately. My newly acquired qualifications and the fact that I was a woman worked in my favor. A lot of gyms are looking for women trainers since some women prefer to workout with women trainers.
Today I offer personal training and most of my week is booked. I am also good with helping pregnant women and those who just gave birth. At this time I consider going back for additional training. While I may not have gone to college I find that I am able to make good money and in some cases even better than someone with a degree. The more important thing here is that I actually like my job. This time around I am more responsible and save up for the future. I am also looking at ways to make my career last longer. All the same as someone who has not walked the traditional path of going to college to get a bachelors or a masters, I do recommended that women who may find themselves on the wrong side of academics, look into trade schools as an option too.