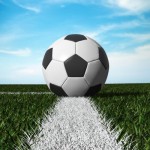 I couldn't believe the words coming out of her mouth—well, almost couldn't. I was sitting next to my friend Barb, while we watched our daughters' varsity soccer game. Her loud, angry criticisms, directed towards the field, went way beyond the line of civility. And I must admit, I had been guilty of this less-than-stellar behavior myself.
When my daughter first started playing soccer as a pre-teen, it was all about fun. She enjoyed it, and so did I. And for the most part, the only calls from the sidelines were shouts of encouragement.
Later on, as school sports became more competitive, things started going south. Slots on the junior varsity and varsity teams were prized commodities. Positive support from the sidelines began to fade in the aggressive atmosphere of competition. That's when soccer became more about the score.
Parents yelled and complained—so what?
Along with this change came a shift in the spectators' outlook. Parents began to criticize coaches, officials and even the girls. At first it was just grumbles and under-the-breath remarks. But eventually, it evolved into full-blown shouting. In fact, my friend Barb's daughter had asked the coach not to play her on the spectator's side of the field, because she didn't want to hear her mom's yelling.
It became accepted parental behavior. Parents yelled and complained—so what? Eventually, I found myself drawn into that angry atmosphere, making my own ugly remarks.
But when another friend confided that her husband had quit coming to games because he couldn't stand to watch the girls' poor playing, it made me stop and think. Looking around the stands, I realized how unhappy many of the parents seemed—including myself.
Those girls were playing their hearts out. Surely they deserved better support from their parents?
Everyone working together for the common good.
I decided to take this problem to prayer. I remember being moved by the phrase, "the true brotherhood of man will be established"—something I read in the spiritual guidebook Science and Health. "True brotherhood" was such a beautiful idea. All of us—parents and players—truly belonged to the same family, with one divine, loving Parent.
I thought more about true brotherhood and sisterhood, with everyone working together for the common good. I started to see the parents and players not as a bunch of competing minds with limited abilities and opportunities, but as a team, united in a shared goal.
The whole quote from Science and Health says, "It should be thoroughly understood that all men have one Mind, one God and Father, one Life, Truth, and Love. Mankind will become perfect in proportion as this fact becomes apparent, war will cease and the true brotherhood of man will be established." With my new view of spiritual brotherhood, I could appreciate all the players, parents, coaches and referees.
I don't even remember who won.
That ended the angry, critical attitude I'd been exhibiting. In its place, I felt a gentleness that has stayed with me.
And what about my venting friend, Barb? Well, in that spirit of true brotherhood (or in this case sisterhood), I turned to her and gently said, "Barb, if you don't stop talking like that, I'm going to have to move." She turned to me with a surprised, thoughtful look and replied, "Oh! You're right. I need to stop."
We happily watched the rest of the game, sharing appreciative comments about the girls' play and the coaches' decisions. You know, I don't even remember who won the game. But my sideline prayers have won out in every game since.