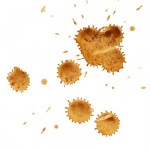 Stains can give us a tough time. Right from ruining our clothes to spoiling our furniture, to even destroying the look of a very expensive carpet, stains can be responsible for it all. Fighting stains is not an easy task and in most cases demands professional care and despite this some stains are so stubborn that they will not do much other than fade a bit.
Most of us mothers have suffered such stains. Of course there are those that one cannot do much about, but there are some stains that if tackled properly can be removed saving the item completely, and without too much of an expense. Here are some of these stain removal tips:
Coffee stains – Coffee stains can be very painful and if the beverage lands on a light colored fabric, the blotch can stick like glue. So, if you find that you have stained your shirt or the carpet with coffee the first step would be to use lots of paper towels to soak up the excess liquid as fast as you can. You can use even kitchen towel, anything on hand to quickly soak away the coffee. Take some cold water and dab it on the stain once you have soaked up the extra coffee. This is very important that the cold water covers the stain fully. Then take some laundry detergent and rub it very lightly over the stain, till it begins to fade away. Apply a stain stick on the area and leave it for a few minutes before washing it off. In most cases the coffee stain would have gone or faded drastically. The faster you clean, the better the chance to totally remove the stain.
Vomit stains – A problem most mothers often face is vomiting and in homes where there are infants this can become a usual occurrence. Vomit stains are not easy to clean and while on baby clothes they are not so much of a problem, as we can wash them, on carpets they can be a disaster. The first thing to do here is to turn the fabric over and spray it with cold water. This helps to dislodge any food that may still be stuck on the garment or carpet. Now spray the region with some ammonia, some milk and also some liquid detergent. Let it soak in for a few minutes and then rub with a soft brush. Repeat the process a few times and then finally wash off with luke warm water.
Vinegar, ammonia, detergents and stain removal sticks are some very handy things that work well to remove stains. However, there are times when you will need to go to the dry cleaner. If you do that, best is not to mess with the stain at home. Cleaners say that removing a stain that has not been touched before is much easier that pulling off the stain than has traveled into the fiber due to at home fixes. So if you find that you have a heavy duty stain on your hand, it best to take it to the cleaners instead.