I just made one of the biggest decisions of my whole life and I feel excited, nervous and absolutely amazing. It's taken me pretty much my whole life to come to the point where I could make this decision but I've finally decided to stop chasing my dream and to start living it.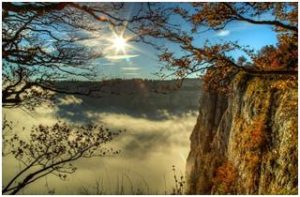 So many of us have this imagined life that we daydream about. It could be about having the body we want, the relationship we want, a beautiful beach house with all glass sides and not a neighbor in sight or a career where we make our own hours and have all the time in the world to spend with our children. But so many of us don't believe we can actually live the life of our dreams. We don't believe we have what it takes.
I remember ever since I was able to write, I was taking my imagination and creating stories upon stories from it. I even had a book published when I was in third grade (The Fat Bunny). I loved writing and it was a part of me. It always felt like a strong and deeply rooted desire that was as much a part of me as my spirit is. As a child I decided that one day I wanted to be a famous author and write fiction stories. Every chance I got I was coming up with imaginative stories. I knew I'd always be a writer but that didn't stop me from trying to escape it.
As I grew up, my adult brain developed and my desire to chase my dream was replaced by a need for security and acceptance by others. I forgot what it was to make myself happy and not care what anyone else thought. I forgot what it was to transcend physical reality and live without limits. So I did what everyone said I should do and I went to college, I graduated and got a job. But I never really gave up writing. It lingered patiently as a side hobby to earn some extra money and a creative release but I couldn't fight the feeling that I wasn't living up to my potential. Writing as a hobby wasn't enough for me.
I didn't believe in myself enough to actually think that I could become the kind of writer I've always dreamed of becoming. I've been told that putting my full time efforts into writing is a huge risk because there's no promise of money or a stable job. The last thing I would want to do as a single mother is ruin myself financially and not have a means of supporting my children. So for a long time I chased financial freedom and stability because I thought achieving that kind of security would be fulfilling. I thought if I could have a lot of money, I could give my kids a happy life and I would be happy. I thought if I could have the stability of a good career, I would never worry about not having a job. So I recently got accepted into grad school and a program that would give me the ability to land a high paying career as a nurse practitioner. Surely I would be fulfilled then. I would have more than enough money and I could take my kids to travel around the world, buy a fancy car and never worry about bills and once I had all that, then maybe, just maybe I would be in a good place to fulfill my dream of writing.
However, there was this knowing inside me that was telling me I was heading down the wrong path. A path that would not leave me fulfilled. I tried so hard to ignore it and I even gave up writing because it was intimately linked to this knowing and only fueling it. I came to hate writing and I wanted nothing to do with it so I quit writing. I started studying more and preparing for my new role as a grad student but every morning I would walk downstairs and pass my computer where I used to sit and write for hours. I missed it.
I missed it and missed it until I couldn't take it anymore. I couldn't fight what I already knew any longer and so two weeks before I was to begin grad school, I dropped out.
What motivates your life? What drives you to make the decisions you make and to live the way you do? Is it fear? Do you fear not being able to pay your bills and so you slave away at work and deprive yourself of sleep? Is it acceptance? Do you want to please others so bad that you are willing to do what they want you to do before doing what you want to do? Is it logic? Do you only live for what you can see physical proof of and what your human brain can make sense of? In other words, do you play it safe? Or do you live by faith? Do you trust what you feel in your heart and do you know that if you believe in something enough that no matter what it is, you can make it happen. I used to live by logic but the part of me that is much wiser was always calling to me to believe in myself more and little by little I have until I could no longer deny that I have it in me to live the life of my dreams. I just had to quit chasing it and start being it. My motivation is love. I love myself so much that my faith in myself is much stronger than anyone or anything and I'm now free to live however I want. No limits.
Your faith is all the security you need. Your faith in yourself is much stronger than any amount of money or other kind of security. You can be the healthiest, wealthiest and most beautiful person in the world and if you don't have faith in yourself, you'll still feel as though you have nothing. Look at some of the most amazing people in history such as Martin Luther King, Helen Keller, Stephen Hawking and so many others. Despite the odds against them, they all had one thing in common that was much more powerful than anything that could hold them back. They had faith in themselves. They were going to live the way they wanted and there was nothing that could stop them. They didn't focus on what they didn't have. To them they already had what they needed to make their dreams come true and instead of chasing a dream, they became it.
It's never too late. It took me thirty years to come to this point where I believe in myself enough to make my dreams come true. But that dream that I found when I was a child is still as fresh and energetic now as it was then. The only difference now is that I'm even more excited because what was once just a dream is becoming a reality for me.
It's never too late to make your dreams come true. That's just an excuse for not believing in yourself enough.
So what am I doing now? Well I'm writing full time and I'm loving it! I'm having so much fun mixing reality with my imagination and painting my blank computer screen with colorful worlds and people that only I can create. Instead of doing something that I like, I'm doing something that I love!
You are worth living the life you want so stop chasing it because everything you need to make your dreams come true, you have right now, inside you.