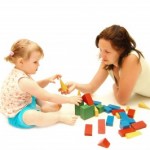 Too much of anything is bad and this is why we need to strike a balance in our lives. As moms it is important that we help our kids maintain this same balance too. Doing homework and play are the two very important aspects of the kids growing up years and striking a balance here is crucial if the children are to grow up into wholesome adults.
A look into how as mothers we can help our kids achieve a healthy balance between study and play follows
Schedule – Instead of trying to keep a count on a daily basis, follow a weekly schedule that offers a blend of studies and sports. Let the children alternate between study time and play time. While following this schedule do not go overboard. There are times when kids need to study more and similarly there are times when they need to play more.
Attention span – Every child is different and it is important to understand the child's attention span before chalking out a schedule. Depending on their attention span of the child one will be able to tell not only the time that the child needs to study but also the slots of the day that will work for the child. Smaller kids will do well with a fifteen minute study slot followed by an hour of play and then another fifteen minutes of academics. Older kids are able to put in even up to two hours of study at one go and then go on to pursue their choice of sport for about the same time.
Interest – While academics are a huge part of a child's life, we cannot overlook the many advantages of play. This is why it is crucial that as mothers we learn to identify the area of interest of the child. Letting the child pursue a sport of interest will allow the kid to relax and enjoy that time and therefore be able to concentrate better in the academic field also. In case you find that your child is ignoring studies in lieu of games, you will need to find ways to interest the child towards the books too. So do try to balance the kid's interest levels between games and play in order to be able to balance the time that the child spends on the two.
Every mother wants that her child to excel in life but it is important to never force our own aspirations on our kids. We must not push our kids towards a sport or a line of study because we think it is right. Helping the child to develop an individual interest in the area is the best that we can do and hope that this interest will take the kid forward. As the kids grow older they will learn to strike this balance themselves and once they do so, they are bound to move towards success.