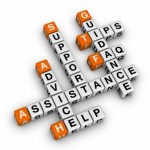 Change can be hard but when you suddenly become single with children it can be downright scary and overwhelming. A single mother may suddenly encounter financial difficulties, work and childcare issues, housing problems, and more that require extreme effort, courage, patience and discipline. The challenges newly single mothers faces don't come with an instruction manual and so to help with here are some tips on what to do first.
Get help. When children are involved, agencies are available for assistance. If you are in a dangerous situation, contact the police first. Don't be ashamed to contact the social service agency in your area usually referred to the department of human services. They will offer guidance and direction for food, medical attention, housing assistance as well as financial and legal advice. Your local churches and charities may offer additional help. Put way your pride and ask friends and family for help. They can help you get on your feet by opening their home or lending you some money. If they aren't in a position to do that, they may offer free childcare so you can work. Don't be afraid to ask. There will come a time when you will be in a better position to help someone else.
Set goals and make a plan for your short term and long-term goals for work and education. You may not be able to support yourself and your children with your financial situation. You may need to increase your income by seeking further education or another job. Do not depend on child support to come in and keep you afloat. Calculate what you can accomplish based upon the day care services in your area. Contact the financial aid office at your local community college to explore what is offered and see if you can receive financial aid. If it is more cost effective to not pay for childcare try an online education. See if you can be promoted in your place of work. Even though it takes time and it is an expense, do follow through with any divorce proceedings or court procedures.
Begin to live according to your new income. Look at your habits and activities to make sensible reductions in costs. Work with what you have and do not accumulate debt with credit cards or loans unless you are in an emergent situation. Find cheap housing in you area; often there is low-income housing. Some landlords will reduce rent in exchange for home improvements. Limit the use of utilities and cancel anything that is unnecessary such as Internet and cable. See if you can carpool or travel only to work or school and do errands along the way home. Use grocery coupons or buy the generic store brands. Don't eat out and pack a lunch. Find fun for free or cheap. Take your children to the park or visit with your neighbors and friends. Visit the children's museum or city pool on hot days and on cold days pinchpennies to see a movie. Save gifts and toys fro when your children are due for a reward or have a birthday coming up. Don't show your kids love during this time of transition by buying them things. It is hard to do at first but live with less; buy only what you absolutely need and better yet, do without.
Remember to stay positive because your hard work will eventually improve your lives. Surround yourself with positive, helpful people. It wont be long before your concern and stress turns into joy and peace.
N.H.