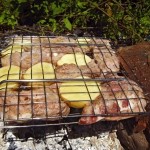 Put on your sunscreen and fire up that grill – it's summertime! Summertime is one of the best times of year to start eating healthy if your New Years Resolution "to lose weight and be healthy" fell through by March! Hey it's okay, it's a new season and here are some great foods to help keep you healthy through the summer.
Barbequing, an All American pastime, is great for those trying to lose weight and be healthy this summer. Instead of grilling the usual burgers and hotdogs try some seafood, chicken, and turkey. Four large shrimp are only 22 calories and contain five grams of filling protein. Put them on a skewer with pineapple, peppers, zucchini, tomatoes, and mushrooms and they will be a crowd pleaser for sure. Just be sure to not give the skewers to young children. Grill chicken breast until fully cooked and glaze with a light BBQ sauce. Grilling allows the fat to drip into the fire and not onto your plate. Turkey burgers can easily become a family favorite. Season as you do your hamburgers, add a low fat cheese, you can even add turkey bacon, and put on a wheat roll. You will never miss the greasy burgers of your past.
Corn on the cob is a family favorite and is a worthy part of a menu. It is good source of many nutrients including vitamin B1, vitamin B5, folate, dietary fiber, vitamin C, phosphorus and manganese. Have your children put the skewers on and spray them with some butter or olive spray. Put them on the grill directly or in a foil tent. Use one cob to make a corn salsa to top some grilled fish for another meal.
We all know watermelon keeps us hydrated but it is also a disease-fighting fruit packed with vitamin A and C. You can eat two cups and it's just 92 calories. You can even blend watermelon with lemonade and ice to make a summertime smoothie that you won't feel guilty sipping or giving to your kids.
Fruit salad is easy and delicious. Take whatever fruit you have and add it to a bowl with a bit of lemon juice. Be sure to add those antioxidant rich blueberries and strawberries. Having a hard time finding fresh or affordable berries in your store? Try the freezer section and look for bags of fruits with no sugar added.
For the summer season consider switching from white bread to whole wheat bread. It is much higher in fiber than white bread. For kids that oppose the wheat bread, there are now some breads that appear to be "white" but are actually wheat! Be sure to get Whole Wheat– Breads labeled simply "wheat bread" usually are made with about 75 percent white flour and 25 percent whole-wheat flour. Check the label!
Trying to beat the heat? Reach for a glass of iced green tea. A recent study published in the Journal of Nutrition found that people who drank green tea tended to lose more weight, especially, belly fat than non-tea drinkers. This is because catechins found in tea boost metabolism and increase fat burn. Throw in some berries or lemon and are a natural sweetener, or try Truvia or Splenda sweeteners.
And for the parent that needs a break by the pool try an ice-cold sangria. This wine, fruit, and seltzer beverage keeps your heart healthy. A study by Texas Tech University found that adults who enjoy a drink a few times a month are less likely to be obese than nondrinkers. For the kids give them some ice water with the same fruit you used with your berries and they'll be just as refreshed and happy by the pool!
Cheers to summertime!
Article by Nicole Hoff