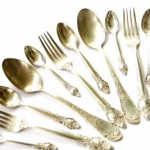 Silver items have a life that can goes down generations. Some of us are blessed to have sliver cutlery, artifacts and even jewelry that has been handed down from your great grandparents. Indeed, if cared for well silver can enjoy a very long life and generations to come after you can enjoy these items too. With the rise of sliver prices, most of us tend to lock up our silver and while this may keep it safe, it still needs maintenance.
Below are tips on how to care for silver, so that it can retain its shine and last longer:
Tarnish prevention – The first and foremost silver care requirement is to keep the item from being tarnished. Unlike gold, silver tarnished very quickly and there is not much you can do to remove these stains, apart form having the item polished again. Since silver tarnishes with exposure to Sulphur mainly hydrogen sulphides, it is important to keep it away from wool, paints, latex, foods and other such products. Interestingly even sweat can tarnish silver and so it is best to touch it only after you have wiped and dried off your hands properly.
Shine – Many of know that in order to keep silver shinning the use of toothpaste works wonders, but this is not true for all toothpastes. Some of them contain baking soda which is an abrasive substance and will damage the silver. These are several polishes available in the market that are known to work faster and more effectively and are recommended for those who are looking to shine a large amount of silver. When choosing a silver polish make sure you pick out one that is not abrasive, since in while the abrasive ones do work faster, they end up damaging the silver more.
Washing – When washing silver items make sure that you use a phosphate free detergent since the silver with otherwise react to the phosphate and tarnish within minutes. Once the silverware has been washed, dry it with a soft cotton cloth. Remember using a felt or woolen fabric will damage the silver. Stack the silver only after it has completely dried off so you don't leave too many stains on the item.
Storing – In case you are going to be storing your silver item, make sure that it is tarnish free. Remember if your silver is a bit tarnished and shows a yellow hue and you store it, the light yellow tarnish will take on the form of a deep blackened tarnish. As the tarnish gets darker it is less easy to remove. So make sure that you remove all signs of tarnish before storing a silver item.
Silver demands a lot of care and while these items are not only hardy but in most cases they are very expensive, and not always easy to maintain. So, if you lucky enough to own silver, keep the above tips in mind and you will be able to add life to your silver by following them.