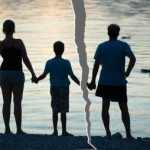 Divorce is never easy for anyone concerned. Both the partners suffer at their own ends and sometimes even the extended families maybe involved. The friends of the couple also go through their own ordeal since sometimes choosing one partner over the other can be quite difficult. However, the one party that always pays a huge price and for no fault of their own are the kids. Children will rarely even take kindly to their parents separating and if the situation is not handled in the right way, it could mar the child forever.
Some tips below on how to talk to your kid about the fact that his/her parents are going to seek a divorce:
No blame game – When talking to the kids about your divorce, do not place the blame of the separation on anyone. Children will not like it if their father or mother is made out to be a bad person. So talk to the kids on a neutral ground. Tell them how sometimes people don't get along and while it is no ones fault, living together can get difficult. It is very important that at no time do you imply that the child is to blame even a little for this. Saying something like 'mommy did not have time for daddy because she was looking after you' can make your child hold him responsible for the divorce. The blame of the divorce should not be placed on any one at all.
Reassure – One of the main reasons why kids get so scared of their parents divorce is that they feel that they will not be loved anymore. As parents it is crucial that you reassure the child in every way possible that while his parents may not be in love with each other anymore, they do love the kid just as much as before if not more. The child will have to be shown by both action and words that his safety and parental love will not be compromised at all.
Help move on – Instead of keeping a gloomy atmosphere in the house and talking about the divorce over and over again, help the child to move on by involving him/her in other activities. In case you find that the kid is not taking the divorce too well, talk to a counselor. As a parent you will have to do anything within your power to help your kid cope with the divorce and move on beyond it. Children who are neglected at this time can nurse a grudge all through their life.
No child wants his/her parents to go through a divorce. However, with a little bit of help from you, you kid will learn to cope with the situation. Keep in mind that as parents it is important that you try and make it work, but in case things are not going well it is better to call the marriage off and give the child a steady and happy hope instead of a high strung and negative one.