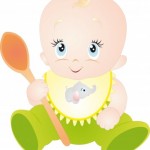 Mothers who are satisfied by the way their children eat are a myth. All moms worry that their child is a poor eater and is not eating nutritious food. While these concerns are quite usual, it is also true that early childhood eating patterns do effect out likes and dislikes as an adult too. As moms, it is our duty to ensure that the kids eat well not only in quantity but also in quality.
Raising a healthy eater does require a few steps to be taken right from the time the child begins to develop taste buds and starts to explore other options apart from mother's milk. Here are a few tips that will help you raise a healthy eater and thereby also a healthier child:
Balanced diet – Make sure that you are feeding your child a balanced meal right from the time your infant begins her journey towards solid foods. When giving fingers food to your kid, make sure that they are nutritious and healthy and no just junk calories. So a potato finger chips plate should get replaced by steamed carrots with some light salt. As your kid grows older make sure that you always offer a meal that has proteins, carbohydrates, vitamins, etc in their right proportions. Consuming a balanced meal will encourage the child to eat in a similar fashion even once the kid is grown up.
Healthy snacks – Children tend to require a lot of snacks since their tiny stomachs cannot hold a lot of food. Most kids will need a snack in school and in between their lunch and supper too. Some may even get hungry at night. As a mom you need to ensure that the kids do not go feasting on unhealthy snacks. A packet of chips, fried foods and even processed meats are not healthy snacks. Instead the kids should be given roasted snacks, a bowl of mixed dry fruits, a glass of milk and some healthy cookies, etc.
Camouflage – Kids will usually curl up their noses at the sight of vegetables and most moms are fighting with them to eat their greens. It is a fact that children need to eat their vegetables but all this shoving and forcing actually makes a kid hate the vegetables even more. The trick here is to camouflage the healthy food in a tasty option. So when making a potato cutlet, learn to add chopped carrots and spinach in it. Right from pizzas to meatloaves to even pancakes you can add the good stuff in all of it and enjoy while your kid gobbles it up.
When looking to raise  healthy eater you need to make sure that the food options available in the house are healthy too. You cannot have a bag of chips lying around and expect your teen to cut fresh carrots and have them instead. If you wish to have your child eat healthy, change the entire house's meal plans and make all the food in the house healthy and nutritious.