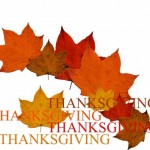 Another year going by, and before we know it the Holidays are upon us. Don't fret. Life is much more than how we need to have things, we cannot afford to buy. Our world is much bigger than keeping up with others just to " look good." Usually single mothers don't even compete in those areas because they don't have much. I honestly was glad I didn't feel the need to keep up with the other moms who could buy their children anything they wished for. My family, and probably most of yours are different. We don't have it to save, let alone give. Money, presents, clothing, these are all the trimmings most people think this season is all about, but they are wrong. Whatever your religious beliefs are, Thanksgiving is about being grateful, for your life and to others. This is my all time, favorite Holiday of the year! No gifts needed to exchange, no feeling pressure to buy things, that aren't necessary. No, this Holiday is about showing up, making dishes to share with loved ones, and feeling grateful for all you have. It's the most wonderful day to Give and say Thanks.
Perhaps your table looks sparse compared to others. However, your table might have more than your neighbors. We all have something to give to someone else. It's a gesture of love, a helping hand, a sincere, "Thank-You," a note of praise, a calming voice, a warm hug, a look that understands…life is shared with many people. Family, friends, neighbors, workers, and more. Do something this week that stands out. Say something nice to someone, give your child that extra vote of confidence, tell your mother you appreciate her life's lessons, even if you disagree with most of them. We are better people when we step out of ourselves and give to others. We have our own hardships, and our stories have been painful, but we have our voices. They can say loving things to brighten up someone's day, and might even inspire them to say something nice to the next person they encounter too. Life is one big road trip. The paths we take, the smooth highways and the bumpy roads all take us on this incredible journey, we call Life. I truly believe in the spirit of Thankfulness. It can often lead us to a better tomorrow.
Thank someone in your life this week that has been kind or has done something positive to bring to your life. Thank someone who has been unselfish towards you, or who has cared for your child when you could not. Thank the mailman for his service, the cashier for her hard work, the waitress, the hairdresser, and an officer for his unselfish courage. Thank your family for their support, your sister and brothers for their help when needed. Thank your children for their love. Thank God for their gift.
Article by Laurie Cesario-Overton