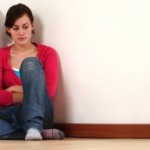 A lot of mom's have heard the typical outrage statement from kids that assigns the bad mom tag to them. When you are single mom and your kid turns around and tells you that you are 'bad mom', it does hit you very hard. In my case I was so worried if I was being a good mom that I became a soft target for my daughter. She would get away with murder by tearing up and giving me that hurt look. I on the other hand was so guilty that I had messed up her life by leaving her dad that I would bend backwards to please her. In my race to be a good mom to my one and only daughter, to play a dad a mom and a friend to her, I actually became a bad mother.
As the months rolled by my 10 year old angle had taken on the form of a mafia don. She would not listen to instructions. Would break rules set by me all the time and worse still she had started to lie to me also. I was so taken aback when a friend of mine said that my 10 year old was giving me problems like a teenage usually would. I realized that somewhere I had become so soft with my little girl that I had changed her into a little monster.
Single moms have a lot to worry about when it comes to raising the kids. They are wholly responsible  for their children and with no other parent in the picture to help play the good cop bad cop routine, things can sometimes go haywire. Being too lenient with the child is going to spoil her and if you are too strict that too you face the fear of breaking the kid.
Once I realized that things were going out of hand, it decided to put my foot down and take on a stricter role as a single mom. Much to my horror, this did not go well at all. My daughter rebelled and even went to the extent to making up stories about me to her class teacher. I had a tough time explaining to the school authorities that she was simply making up the stuff.
Right from the studies to her clothes everything was a mess. The harder I tried the worse it got and then she began to bring up how it was all my fault that her dad was not around. By then it had started to drain me out. I knew I had messed up with being too soft with her initially and now even the simple routine rules were something that she was not ready to comply with.
I decided to get some therapy for us but sessions were expensive. It got frustrating and I seemed to be doing everything wrong. The therapist had asked me to enroll on a site where single moms would often exchange notes so that I could get some input from them. Once on the net I realized that there was some great parenting advice on the net.
A lot of other mothers were facing similar problems like mine, which to be honest made me feel much better. But apart from me getting sanity back these forums and sites helped me figure out how to move ahead with my daughter. http://www.singlemom.com/parenting-advice-tips-and-resources/ is a great site for all types of parenting advice. It was here that I read an article about how to juggle between playing the bad cop and the good cop with the kid.
I decided to first learn to pick my battles and then move ahead one at a time. We began with home work. If it was not completed by 6 in the evening, then my daughter would not get any television for the next day. We made rules like this and I decided to include her in these rules. For every rule I explained the reason for it and then we moved on to the next one. These basic rules went on her room cupboard and the refrigerator door too so that she could go through them at will. For my part I made sure that she did not feel that she was alone in all this change and so I went along adopting the rules that could be made applicable to me too. Simple things like eating on the dining table only and putting the plates back in the sink, etc was stuff that was happily followed by me too. This did not make her feel like she was alone in the drill and over a few weeks she also learned that while mom is there to love her, she will also enforce some rules.
The other day my daughter was watching some television and after her designated slot I asked her to switch it off. I had gone through an article and was trying to control the television time in the house. I was expecting a full blown tantrum from her but instead she simply got up and switched off the television. On her way up she mumbled 'you're a strict mom' and I instantly smiled. I'll take that tag any day and happily live with her calling me a 'bad mom' too. What I need to work against is 'actually being' a 'bad mom' and that is possible only when I understand that loving your child and spoiling your child are two different things. So, ladies I am working at it and would really urge other mother's like me to not fall into the soft mom trap like I did.