Excerpt from Pancakes Taste Like Poverty: And Other Post-Divorce Revelations, by Jessica Vivian.

What's interesting about leaving a marriage is that what looks like the end is never the end for the person who's choosing to go.
My eventual acceptance of my dead marriage came in the form of a few pivotal moments. It wasn't the fights or the drama or the transgressions. There were so many I couldn't begin to remember them all. But I do remember when the Universe first whispered for me to go.
It was 2009 and we had been fighting for days. I have no idea what about. I was taking out the trash. I could hear the garbage truck coming.
I lifted the lid of the giant trash can, already teeming with this week's batch of maggots, and the top- heavy container tipped over, spilling rotten food, fermenting garbage water and maggots all over my driveway.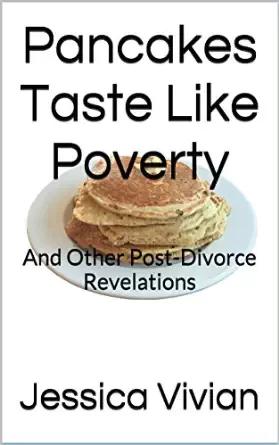 And then it hit me.
Right in the chest.
A sledgehammer.
But the pain never let up.
I gasped.
I couldn't get air.
A fist was squeezing my heart.
Tighter and tighter
I collapsed on the driveway.
No air.
Blackness.
Stars.
Slow down.
Breathe.
With each desperate gasp I could feel my throat closing, despite my attempts to control my body. My heart was pounding in my ears.
I don't want my kids to find me. I don't want to die in my driveway.
I don't want to die.
I don't want to die fat.
I don't want to die uneducated.
I don't want the last decade to be the way I spent my adult life.
I don't want this to be the last day.
I heard a voice through the muddy drumming of my heartbeat. A vague figure came toward me. There was the faint, fruity stench of the garbage truck.
You are in control.
The drumming slowed.
You are in control.
I forced my lungs to work for me.
This marriage will kill you.
The garbage man helped me up and insisted we call an ambulance. Having no insurance, I insisted he didn't.
I think it was a panic attack. It could have been a heart attack. Either way, the message was clear. My marriage was going to kill me. Maybe not immediately, but the stress and the holding in and the lack of respect/love/excitement/trust – all of it – would kill me.
back to Pancakes Taste Like Poverty: And Other Post-Divorce Revelations