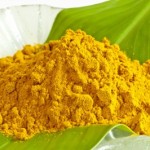 Turmeric is said to be one of nature's most powerful healers, turmeric is a root that is often used in its powder form to add color to food. The advantages of this plant are several and right from curing small infections to playing an integral role in hastening the healing in some very serious ailments, turmeric does it all.
Here are some of the benefits of turmeric:
Antiseptic - The root is known for its antiseptic qualities and is very helpful in disinfecting wounds and even burns. In fact there are a lot of antiseptic creams that use turmeric as their base. A simple paste of the root when applied to the wound or burn works to keep germs away and thereby help the wound to heal better.
Detoxifier – Turmeric is also known for its detoxifying abilities. It is said to be the best natural detoxifier for the liver and is highly recommended in cases where a person may be prone to liver damage. All one has to do is consume two large spoonfuls of fresh turmeric juice once a day. Adding it to milk is a common way to have this juice while some prefer to mix it with a spoonful of honey.
Anti-Depressant - This lovely yellow orange color giving root has been successfully used by age old civilizations like the Chinese and the Indian to cure depression. Today it is still used to fight depression.
Healer- It has been found that pure turmeric applied to a wound helps it heal much faster than otherwise. It is said that turmeric helps to hasten the skin cell remodeling and therefore the wound heals faster and also leave behind a weaker scar.
Tumor fighter – Turmeric has helped to prevent growth of newer cells in a tumor. In fact those who fall prey to tumors are encouraged to take turmeric in pill form as opposed to simply consuming the juice or adding the powder to the food.
Fat fighter – Since turmeric has qualities that help in fat metabolism, it works as a great fat fighter. Those looking to support their exercise plans should consider adding turmeric to their diet. A tiny bit of turmeric adds both flavor and weight loss qualities to your salad.
Medical research - Turmeric is begin used in several researches and right from having the ability to slow down Alzheimer's to showing signs of being able to fight breast cancer, turmeric has it all. It is also known to be a natural pain killer.
Turmeric is a root with numerous benefits. It can be used completely raw or the root can be dried up and ground into a powder. Adding it to skin packs helps to keep the skin glowing and fresh. The plant is safe enough to use on children too and is the reason why it is considered a must have in every home.