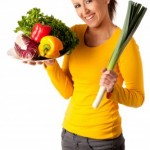 All too often advertisers are telling parents to pretend that vegetables aren't in their children's food. It's as is if we aren't smart enough to make the decision to teach our kids about good nutrition. We are. I feel it makes more sense to encourage our young kids about the healthy benefits of all fruits and vegetables when they are very young, this way they have a much better chance to continue down this path when they are grown adults. When I ran my Home Daycare, all the children ate two vegetables with every lunch. That way I knew, if they tried both kinds, they might like at least one. It worked. The ads on television that tell parents to "keep quiet" about the vegetables in some name brand product, makes me cringe. We are trying to boost the knowledge and increase awareness to our families and children in a positive way.
I think one way to really bring a positive light on this subject, is to grow your own garden. It can be a very simple one to start with, maybe two different types of lettuce, and then maybe start a small tomato plant too. Zucchini grows very well and most of my daycare kids loved it baked into loaves of bread, cooked on the stove or roasted in the oven. It is so important for us parents to be examples of healthy eating and good nutrition. With all that is out there in our lives that we can't control, buying and serving healthy meals is something we can.
Let your young children put on an apron and teach them how to shred the lettuce, toss in some orange and apple slices, with some chopped tomatoes for a great, tasty salad. Children love to be your helpers. They will grow to love these dishes and even more so, because they helped with the preparation. When you get them involved with shopping and preparing meals together, they learn the value of fresh produce and healthier choices. If you can grow something yourself, they will come to appreciate the time and patience of nature. This is a great way to involve the family and encourage good eating habits.
Article by Laurie Cesario-Overton