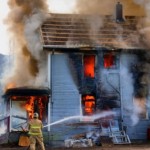 I stood outside on that cold February night, never noticing the temperature.  As my children and I stood there, we watched our house literally go up in smoke from across the street.  The fire truck sirens screeched in the background as neighbors gathered around us.  Someone slipped a blanket around my shoulders.   My daughter made sure that her brothers were close by as we watched the fire shoot out of the top of our house.  All of our worldly possessions were being consumed by the mighty blaze.
Earlier that night my children and I had been enjoying a quiet evening at home.  My youngest son Matthew was four at the time.  He and I had been sitting on the couch in the living room while I was reading a book to him.  On the wall above the couch were candle a bras.   I asked Matthew if he would like me to read him another story, and I headed up stairs to get another book.  When I returned with the book, Matthew was gone.
"Matthew" I said, "Come back here so Mommy can read this to you".   I heard a door slam, and saw Matthew run back to me from the kitchen.  He crawled back up onto the couch and we proceeded to read the story.
About the time we were finishing up the book, the lights blew out in the kitchen.  It was a whooshing sound, and I headed over to investigate.  There was an eerie feeling as I stepped into the kitchen. I looked around the dark room, and a strong odor of smoke filled my senses.  It was coming from the coat room.  I ran over to the door that Matthew had slammed shut earlier and opened it, never in a million years expecting what would happen next.
An angry enormous flame leapt out at me, eager to consume more of her prey.  The huge flame, fueled by the oxygen that fed it when I opened the door, hit the kitchen ceiling with a greedy desire and great force.   I had never seen anything like it before, and hope I never will again.   I must have let out a scream because my daughter came running in to see what was going on.  "Mommy!" she yelled, "Get back Mommy!!"  She pulled me away from the flames, and ran to get the phone.  She immediately dialed 911.  After she had connected with the operator, she turned the phone over to me.
"Ma'am," the operator said in a calm voice, "you must get you and your children out of the house now."   I must have argued with her, because she repeated again, "Ma'am, Get your children and you out of that house NOW!"   Her words cut through my panic, and I went to gather my children to head out the front door.
We headed across the street, and turned to watch the fiery beast destroy our home.  By the time the fire department had arrived, the house was consumed in flames. I watched as the men pulled out their enormous water hoses, and began to attack the enemy.  Windows to the upstairs bedrooms were smashed open so as to be able to blast water into the upper part of the house.
It's weird how a house fire brings out an entire neighborhood.  People I had lived by for years but never met, stood with me as we watched the flames consume my house.  It is a rather sick fascination we as humans possess, to watch first hand, such a catastrophe.
The American Red Cross showed up.  The fire department must have alerted them.  All I can remember is a man telling me he was going to take my children and me to the local Holiday Inn for the night.  I was in complete shock at the time, and I know without a shadow of a doubt, that God and his angels were watching over me and my little family.
The next day, a close friend of mine picked us up at the hotel and brought us back to our home.  Nothing in life can prepare you for such a scene.  Because the exterior of the house was brick, the house itself had remained upright.  But as we entered through what had once been our front door, the destruction that filled my sight hit me like someone had just sucker punched me.  I lost my breath as the stench filled my nostrils.  Everywhere I looked, everything was charred, black, and soaking wet.  The walls were covered with soot and ashes, the windows boarded up with cardboard, and the house that my children and I called home was now just a block of bricks, holding only memories of what had been.   Everywhere I looked was black, soggy ruin.
The days and weeks that followed were a blur.  My insurance company relocated us to a nearby apartment while a construction crew came in to gut the house and rebuild the inside.
If you have ever experienced losing all your worldly possessions, you will understand what I went through.  My mind would search for something I needed and find it in my house, and then when I would recall where it was, my mind would then remind me that it was no longer there.  This happened over and over until I was able to accept what had happened.  We had only the clothes on our backs from that night forward.  I had truly lost everything else.
It took three months to rebuild our house.  I had to make decisions that I had never made before.  I had to try to recall all the items I had lost and how much I thought they were worth, so that the insurance company could give me money to replace them.  Not an easy task when you are in a state of shock.  My parents came to help, and we plunged through mounds of soot and ash, trying to piece the life I had back together at some level.
The apartment that my children and I were staying in was small, and while I was trying desperately to keep my sanity, I knew that I really needed to stay as calm as possible for my children's sake.  They were so young, and displaced, and had lost all their precious possessions as well.  And Matthew, only 4 at the time, knew that he was the one that had caused all this chaos in the first place.
That night of the fire, as I had headed upstairs to grab another book, Matthew had decided to grab one of the candles off the wall.  He crept quietly into the kitchen and lit the candle off the flame of the stove.  Quite ingenious for a child of four.   When he heard me come back, he threw the candle into the coat room which was right off the kitchen.  And that is how it all began.  So not only did I need to deal with all the external elements of the situation, I also had to deal with all the internal emotions that all of us went through.  And none more that Matthew.   It was not an easy task.  Thank goodness for family and friends.  I would never have made it through that time without them.
Our house was eventually rebuilt.  And it was more beautiful than it had ever been.  New floors, new kitchen cabinets, new windows and walls.  It smelled fresh and new, and the only reminder that there had been a fire, was when it rained.  A faint smell of smoke would waft through the house when it rained.
That fire brought a profound revelation to me.  For you see, even though I lost all my earthy possessions, I still had the four most precious people in my life with me.  The fact that my kids and I got out that night was the ONLY thing that really mattered.  We may have lost all of our 'stuff", but we still had each other.  We were all still standing, and like the house, we may have been charred and broken on the inside, but we could be rebuilt.  More beautiful that ever.   We were going to be okay.  No loss of an earthly possession would ever compare to the richness of my children.  And I learned that day, that no matter what happens, as long as we have the people we love, nothing else really matters.
Easy to say now I suppose.   Not so easy at the time.  But now I thank God every day, (well almost every day!) that my children are safe and well.  I thank Him too that I have been able to take care of them all these years.  And I thank Him every day for the lesson I learned from that experience.   And every time it rained and I would smell a faint odor of smoke, it would remind me to be grateful for the people in my life.
And yes, I believe Matthew eventually forgave himself.  He was after all, only four years old.  I tried to let him know that in some weird way, it was and experience that taught me the real value of life.  And that was what mattered.  I hope he understands.
Things can always be replaced.  People can't.  I try to never take that fact for granted anymore.  My riches come from the love I have in my life.  From my family, from my friends, and most of all, from my children.   And I thank God, and his angels, for taking care of us.  Not just through that experience, but each and every day.   Even when I am not thinking clearly, or I am not sure what the future holds, I know that He is there.  And that He will work things out.  Just as he did that night.
Written by Debbie Brown