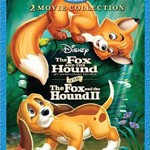 Two Classic Tales Of Friendship And Adventure
A 2-Movie Collection on Blu-ray Hi-Def & DVD Combo Pack
In the tradition ofheart-warming films, such as Bambi and Dumbo, comes Disney's classic tales that taught us the power of friendship in The Fox and the Hound and The Fox and the Hound 2, in a special 30th Anniversary 2-Movie Collection.
The Fox and the Hound:
"Best of Friends" Sing-A-Long – Viewers are invited to sing along with Pearl Bailey on this Walt Disney Classic Song.
Passing the Baton: Making of The Fox and the Hound – This feature allows fans to take a deeper look at this little bit of Disney history as legendary animators hand over the reins to a new generation.
The Fox and the Hound 2:
"You Know I Will" Music Video – High School Musical Star Lucas Grabeel sings this end-credit song.
The Making of the Music – Music is the center stage in The Fox and the Hound 2. As such, this feature showcases how the songs in the film were created with Reba McEntire, Trisha Yearwood and some of the hottest performers in Nashville. Viewers will further discover how animation and music work together to further enhance a classic story.