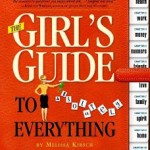 Finally, The Girl's Guide to Absolutely Everything!
And I do mean EVERYTHING. Okay, here it is in simple language- everything you've always wanted to know – from unclogging a toilet to health and body image. This being the new year, we're all trying to make changes in our lives, to improve ourselves, to learn new things, and we need a little boost of inspiration and encouragement along the way. The Girls Guide to Everything can be your bible to making that life transition. Got a question about almost anything? The book provides quick and easy answers at your finger tips. The author Melissa Kirsch gleaned her information from interviews with women ranging in age from 20's to 40's and from all walks of life and ethnicity…asking the question: "What do you know now that you wish you'd known after college and in your 20's that would have made your life a lot less difficult, spared you heartache, generally made the transition to life on your own a heck of a lot easier?" Their responses are compiled in this big book that's full of much needed information, and it's entertaining as well as practical.
What I like about this book is that although there are lots of self-help books out there on this and that, this one has everything a woman needs to know in one compilation. It's a big and beefy book for all the questions you need answered, whether it be about sex and dating, spirituality or your money and finances. It's for every woman – from the just out-of-college young woman looking to make a transition into the real world or for women in their 30's and beyond who want information about the things that pop up in our daily lives. It's also interesting reading about the things you've never even considered.
With well over 150 headings like: Oops, I was inauthentic again, Forget The Nike Tracksuit, Bankruptcy – The Land of the Lost, Tipping Crib Sheets, Considering Therapy, House of The spirit, Kirsch touches all things that are bound to crop up in a woman's life and doesn't bore or weigh you down with long-winded answers. It's like 101 things you've ever wanted to know and then some. This book logs in at well over 450 pages, and it belongs on your book shelf next to the other books labeled self-help, but I can bet that you will be reaching for this one time and time again. It's that useful.
Excerpt from: The Girl's Guide to Absolutely Everything
Shorter hours, a pay raise, change of title, promotion. These are all reasons to initiate a talk with the boss. But remember this when approaching him about changing something in the workplace: Your boss's number-one priority is to make sure you are satisfied enough to do your job well. Otherwise, everyone loses, including him. Always approach your boss with respect and promise yourself never to kiss ass unless absolutely necessary (a really big raise, a really big promotion, anything you're really not entitled to but want anyway).
Set up an appointment to talk when there is enough time to have a real meeting, not when your boss is running off to lunch or at 5pm. on the Friday of a long weekend.
Know what you want to achieve before going into the meeting. If it's a promotion or raise, you should picture that outcome and the steps you'll take to get there. In other words, don't approach your boss with just a problem; approach her with a solution as well.
Anticipate the worst-case scenario. For instance, your boss could greet your grievances with zero sympathy or your request for a promotion with a steely "I'm afraid that's impossible." Once you've imagined your worst fears, feel confident that you can weather any negative scenario that arises.
Come prepared with evidence to back up why your idea is a good one. Your quarterly review, market rates, written memos of recommendation — anything you think will strengthen your argument.
Keep your cool. Even if things start to get heated or you have to plead your case, you're more likely to get your way if you stay calm and on point.
Be assertive and persistent. If you get a negative reaction at first, don't back down immediately. You should feel like you've had a fair hearing and discussion, and not been dismissed out of hand.
If the answer is no, ask for the reasons why. If there's no budging, ask if you can revisit the topic at a later date.
You are entitled to ask for things. Your boss is entitled to tell you "no." But don't ever feel like you haven't the right to ask. Change doesn't occur without a catalyst, and that catalyst is more often than not going to be you taking a solid initiative.
Excerpt by by Melissa Kirsch, Author of "The Girl's Guide to Absolutely Everything"
But it from Amazon