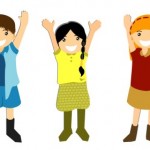 The social structure of the human life is an integral part of a person's survival. Meeting peers and interacting with them keeps us healthy both physically and mentally. Just like, as grown ups we like to meet people in order to keep our sanity, similarly children need this social bonding even more. Play dates are the best way to organize these kiddy social get together where the children are in a safe environment and can play and enjoy themselves.
As mothers we may often undermine the importance of play dates and shelve them for sheer lack of time, but you will be surprised to learn how important these play dates are. Some pointers below will help to understand the importance of play dates and how they help make better adults of your kids:
Social decorum – We may not be looking to groom our kids into learning how to dine with the queen, but the basics like thank you and please are important. When kids play date they learn to use these words with their friends and understand why these words are important. Learning to share, give back what you took from the other, not steal, not hit, not abuse and several other such basic social decorum are picked up by the kids. And all of this while they are busy playing their friends. No pressures, no formal teaching, just fun time with friends and several lessons in social etiquettes. These play dates also teach the kids to share information and learn to talk to each other. Basics like, what's you name, what did you do today, have to seen the latest toy and several other such ice breakers groom these young minds into meeting new people and making friends even when there is no one to introduce them.
Personal confidence - Self confidence is built up slowly and steadily. Children often see adults more bigger and better than them and it is only in the company of peers that they feel their confidence build up. Being able to do a hand stand, sing a song, write better, throw ball faster, cycle, etc are all achievements that kids are able to enjoy and boast of when in the company of peers. This sense of achievement when shared with their own age group, boosts their confidence and makes them feel important and individuals instead of just kids of their parents. This feeling of being a separate entity helps these kids to explore their personal horizons and grow into wholesome adults.
Children need these play dates not only to enjoy, play games, learn and meet people but also so that they can develop the other skills detailed above. Just like you pay attention to their schooling and grooming, it is also important that you provide your kids with this much needed social interaction. So try and get them to as many play dates as possible and soon you will find that these kids find their own comfort and learn to make friends without you putting in any effort into it.