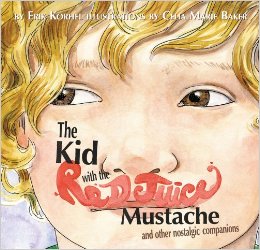 My most recent book, The Kid with the Red Juice Mustache and other nostalgic companions  is the second anthology of humorous children's poems in picture book form.  This installment continues with earlier themes of childhood memories. These poems, once again taken from memories to me, friends and my family's experiences.
I have tried to present vibrant, funny, and engaging stories in each poem, something that kids can both connect to and enjoy. Each poem is meant to be a moment in time captured by the youthful verse, ranging from the silly to the contemplative. Covering adventures on the playground, thoughts before bedtime, and mistaking a large rotund man for being pregnant.
As a kid I was never was in need of something to do.  With my group of cronies, we used our imaginations and would be entertained for days. Growing up in Washington State where the weather could be quite unpredictable we would make due with what we had and make the best of all of it.
The title for The Kid with the Red Juice Mustache and other nostalgic companions collection came pretty easily. After flipping through some of the old photo albums I noticed that there was a theme in almost every photo my sister and I always had a juice mustache.
I am sometimes asked what my writing routine is like. As offbeat as it may sound, I love to write in my car at night while parked in a quiet area with the windows rolled down no matter what season it is. Being reminded of times based on all of the sensory elements.
Often times I will drive through the neighborhood I grew up in for any inspiration I may be looking for. Driving past or walking through particular areas or portions of the neighborhood will bring back special thoughts and moments in time.
Book events are where I seem to flourish. Speaking about poetry and the importance of expressing oneself through creativity. Whether it's visiting schools, public libraries or bookstores. Even having a live, touring performance based on the two books was another way to show kids the value of words and to think about how they choose them.
I love writing for children, but must confess it is more to revel in my most cherished and happy times growing up. My books are designed to promote the possibilities of imagination in everyone, no matter what age.
The Kid with the Red Juice Mustache and other nostalgic companions – by Erik Korhel
Erik Korhel's second anthology of humorous children's poems titled "The Kid with the Red Juice Mustache". This time reflecting on topics such as hot lava, swollen cheeks, haircuts, the ice cream man and more. The resulting success of Erik's poetry books led to them being turned into a live touring performance, including actors, original music and funny props. The performance continues to entertain both children and adults at elementary schools, public libraries and book events.