Internationally renowned storyteller and author, Diane Wolkstein, tells Haitian stories of wisdom and humor, ingenuity and survival from one of the world's great living oral traditions.
With stories collected on her many trips to Haiti, Diane's new CD, The Magic Orange Tree and Other Haitian Folktales, has just received this fall's only Parents Choice Gold Award medal in their Audio/Storytelling category, with Parents Choice singling out Ms. Wolkstein's CD for being not only an "invaluable resource of Haitian culture", but also an "engaging, moving, and inspiring album for the whole family and classroom."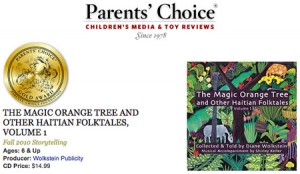 Ms. Wolkstein's new CD features some of her favorite stories and songs from the book, free downloads of teacher lesson plans and song sheets, as well as delightful musical accompaniments by Shirley Keller based on recordings she made in Haiti. With 10% of all proceeds going to Partners in Health towards the rebuilding of Haiti, Diane invites the listener not only to "Stand with Haiti," but also to participate and share in the wisdom and resilience of this proud culture-a vibrant, vital culture which has enabled the Haitian people to thrive in the face of relentless adversity.
About the author
Diane Wolkstein has performed and collected stories on five continents. In 2007, New York City Mayor Michael Bloomberg named June 22nd of that year "Diane Wolkstein Day," in honor of Wolkstein's 40 years of service to New York City. For 13 years the host of her own radio show at WNYC, Wolkstein has also been a frequent guest on PBS, NPR, and the BBC. She is a sought-after performer at festivals, schools, and universities around the world, with recent highlights including performances at the National Storytelling Festival, the Clearwater Festival, and extensive tours of Taiwan, China, and Australia. Ms. Wolkstein is the award-winning author of 23 books, including The Magic Orange Tree and Other Haitian Folktales and Inanna, Queen of Heaven and Earth.Wolkstein taught at New York University for 18 years, and established New York's longstanding Central Park storytelling program.