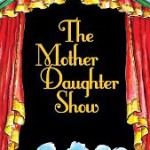 A satire set in a milieu closely resembling Washington, D.C.'s Sidwell Friends School, THE MOTHER-DAUGHTER SHOW invites readers into the world of one of the country's most elite private schools. At the novel's Barton Friends School, which also houses a Presidential daughter, we meet the mothers who come together—not always in a unified fashion—for the song-and-dance revue they produce and perform as a valentine for their graduating girls, a real event at Sidwell that Wexler has experienced firsthand.
Through these very different mothers' stories and against the backdrop of their behind-the-scenes machinations, which intensify as the clock ticks down to show night, Wexler explores issues relevant today, such as: the difficulties mothers face in gaining insight into their daughters' lives in a world of iPods and Smartphones; the challenges faced by stay-at-home mothers re-entering the workforce after a long absence; and the tensions and rewards inherent in friendships between women.
Written by Natalie Wexler
About the Author
Natalie Wexler is the author of an award-winning novel, A More Obedient Wife, and a journalist and essayist whose work has appeared in the Washington Post Magazine, the American Scholar, the Gettysburg Review, and other publications. She has also worked as a temporary secretary, a newspaper reporter, a Supreme Court law clerk, a legal historian, and (briefly) an actual lawyer. She lives in Washington, D.C., with her husband.