I don't lie to my kids. I don't. I don't lie to them, or in front of them. I actually make it my policy to just live within the truth. So, anytime they came to me and asked the question that every parent in history gets asked, "Is Santa REAL?" I have always answered them Honestly. Yes. Yes he is. Very much so.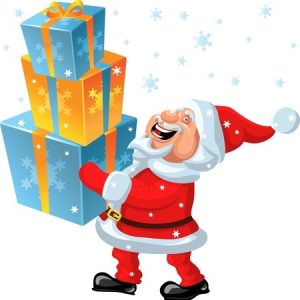 I was raised in a home with two parents. Dad worked outside the home, and Mom worked even harder within it. The spectacle that was Christmas morning was something that even now, in my thirties, I will never, ever forget. Or take for granted. I remember the excitement, the joy, the wonder. I remember the thrill. I recall believing in Santa so intensely. And  I can Still feel how it made child-me feel. It made me feel like I was worth something. It made me feel like I was worth a whole lot.
When my daughters were babies my then-husband and I would put on similar Christmas morning Santa – 'shows'. We were young parents on a single income, but we managed. And It was Always worth it.
We split up when my daughters were five and three. I hadn't worked since my first was born. Things were ugly between me and Daddy in those days, and I was left to make due on my own for a while. Not throwing anyone under the bus, but that was the reality and he's grown enough now to own it.
I can't tell you the strength of the punch that the Christmas Season would hit me with, in those rough early years. My girls were my world. Not only were they my world, but they were amazing human beings. They were innocent and perfect. And even though their Dad and I weren't together anymore, even though my income was barely enough to make ends meet … they Deserved Christmas. They just did. It felt like a raw blade thru the chest every December as I would start trying to figure things out. It hurt.
Now, no one can ever SEE Santa Claus, of course. But as a newly single mom, I FELT him … EVERYWHERE.
I was never one to seek charity. I'm stubborn, and proud. I work, and I I work hard. Still phone calls would come in, friends knowing people that were "clearing out the closets". I remember my daughter wanting moon-shoes one year, they were all the rage back then, a fad toy. For someone who was working her ass off yet still living in the ever looming fear of having their lights disconnected, of running out of gas in the car, and everything else that was all too real during those years, acquiring moon-shoes should have proved a daunting task. But it wasn't. The phone rang. My best friend's niece was throwing out her like-new pair. She HADN'T EVEN KNOWN my daughter wanted them. And so, on Christmas morning, there they were. Now no one actually gets to watch Santa place the gifts under the tree, of course. But I guarantee you, he placed those moon-shoes there for my daughter that year.
Another time, in the midst of my December struggles, my sis (in-law) and her husband concocted a plan, unbeknownst to me. After all these years the details are blurred but I remember this … he knocked on my door with some sort of fabricated excuse. The next thing I knew he was throwing a ball of paper into my living room, door closing behind him, calling out 'Merry Christmas', and off he drove. I went and picked up the ball of paper. It was a picture of Benjamin Franklin. The tears welled in my eyes, and do now as I live this moment in my mind once again. I made sure that every single dime of that hundred bucks made it underneath their nieces tree that year in some way or another. And I promised myself I would never, ever forget it. And I haven't. Now no one ever gets to see Santa's sleigh riding thru the nite sky, of course. But I swear, I caught the slightest glimpse of him sailing thru my very house that year.
There are similar stories involving my sisters and my closest friends. I would never take handouts but sometimes I would have to borrow, semi blindly, praying I'd be able to pay them back one day. And as soon as I was able, I DID. But I never, ever forgot those shows of love, of trust. There just aren't words for people who STILL love and trust you when you're in your bleakest moments. It's a gift of the most valuable sort. Now no one ever gets to know Santa, of course. But I know he is made up of that exact same stuff. Love, and trust.
In the midst of those few years, I got pregnant with my son. It's funny to look back and realize that my pregnancy with him was the last year I really struggled … I mean, REALLY struggled. Of course I'm far, FAR from rich as I write this, but nothing like what I faced in my former years, when I was just beginning to figure it all out. So here I was pregnant with him, and I had just begun a career in real estate as my girls were finally a bit bigger.
As a Realtor, I was asked by someone who was remodeling their home for a recommendation. I gave out the number to a best friend's uncle, a person I liked and admired. He ended up with the job. Months later, the homeowners threw a little Christmas party to show the newly renovated home. I attended, all big and fat with baby, all scared and stressed from the looming holiday. I ended up outside as my friend's uncle was leaving. He pulled me to the side. He thanked me for recommending him, I told him not to be silly, it was a matter of course. He said how they'd made out pretty well on the job, and was happy the homeowners were pleased, too.  Then he shook my hand, leaving something in my palm, and left. There was that face again. Old Ben's. Now no one gets to shake hands with Santa, of course. But I know beyond the shadow of a doubt, that it feels a whole lot like that handshake did. It was unexpected joy, relief, and calm. It was Christmas for my babies.
These are just a FEW of the moments I have experienced. Times when things were so hard, the going so tough, that it seemed impossible to pull off the Christmas my daughters deserved. And again, and again, Santa SHOWED UP. In my friends' thoughtfulness. in my sisters hearts, in my brother in laws truck, in a handshake. I promised myself that whenever, if ever, I was able to BE that same angel, or 'elf' of Santa's for someone else, I WOULD.  So, the past few years, I HAVE. The stories I have about those experiences are equally as beautiful.
My parents did something Wonderful for my childhood. They Let me be a kid. They Let me BELIEVE. They sacrificed their own GLORY so that I, as a child, could feel SPECIAL. That I could Feel MAGIC. I hold them in the highest regard, for many reasons, that being one. They got no thanks, no reward at all. They didn't need it. They were happy seeing us happy. They really, truly were. Now as a mom, I see the Beauty & Truth in that. The humbleness. Putting yourself on the back burner of applause so that your children can experience something even larger, and greater, than we in our cynical old age can appreciate. So I have done my damndest to give my babies the same. But I haven't always done it alone, by any means. Many, many times I "happened" upon a little "extra" help somehow. It's believing in Santa, twice-fold.
As I was saying earlier, no one can SEE Santa Claus, of course. But I swear I glimpse his smile in the eyes of my children every Christmas morning. I have felt him in more ways than I could ever fit into this story. I have lived it. I Know Him.
Even now, as my girls have gotten bigger and more informed and grown, I STILL tell them :
Do I REALLY believe in Santa Claus?
Oh, My Precious Loves!
I ALWAYS HAVE.