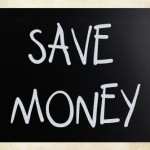 This week has practically driven me crazy. I wasn't looking for any good deals or even thinking about finances. I was so busy that I wondered if I'd even make it through the week, but by the grace of God I did, and I even got a couple good deals in the process.
The week started out with my 5-year old daughter spiking a very high fever. Once the temporal thermometer hit 107.4 degrees, it became obvious to me that I needed a new thermometer. Thankfully I had 2 regular digital thermometers here, so I put one in her mouth and one under her armpit, both of which registered a few degrees lower than my apparently defective temporal thermometer.
Then there was the cleaning of the clothing, floor, and couch that became necessary after the grapes she ate didn't agree with her. (I've started a small savings for wipe-clean furniture, but I haven't saved enough to purchase it yet. Fabric upholstered furniture is definitely not a good idea if you've got kids.)
Anyway, Vacation Bible School was held every weekday evening this week, so on Monday I took my 3-year old there, kept my 2-year old at home, and let my 5-year old go for a ride with her dad in his truck since her fever had left her that afternoon. He said "ride", but they saw berries, so they got out to pick them.  Unfortunately, they were both wearing shorts and standing in poison ivy while picking the berries. They didn't realize it until 2 days later when what we thought were severe bug bites and rashes were diagnosed as being poison ivy. By then it was too late to do much about it.
I took the kids to the pharmacy to buy some topical anti-itch cream, along with an OTC medication for a very annoying infection I was having. On the way out, my girls noticed the back-to-school section, so I let them browse. I'm glad I did because the backpacks there were only $5! That was definitely deal number 1 of the week!
With my 5-year old feeling better, except for the poison ivy, I took her to soccer practice followed by Bible School for her and her sister the next day. The week was busy with Bible School, soccer practice, their Bible School program, attempts that I made to keep up with the regular household stuff that needed done, and one uncomfortable but no longer sick child.
I'm sure my infection made it that much harder, and the exhaustion I have this first trimester doesn't help (yeah, I'm just as surprised as you are) either. Then there were the usual errands of getting gas in the van, getting the mail, buying groceries, checking in on my grandparents, and more, all while trying to keep my kids clean, fed, and not fighting with each other.
Most people look forward to getting a break on the weekends, but this weekend isn't a relaxing one here. My 5-year old had her first soccer game of the year this morning in a town over 20 miles away. When I told her to put on her play shoes for soccer earlier this week, we discovered that she had outgrown them and only had 1 pair of sneakers that fit. She also needed black shorts and pants for soccer, so before her game today, we had to run to Walmart for shoes, pants, and shorts. I paid full price for her pants, but the shorts were on clearance for only $2! Her shoes were on sale, but only for $2 less than the regular price. Nonetheless, I got a good deal on the shorts.
I also got to do some real estate shopping this week after being asked for help by my friend whose boyfriend broke up with her and for my brother's girlfriend. I found some good deals on foreclosure homes for them, one was a 3-bedroom house for $19,000, but I'm not sure if they'll be buying any of them.
So in my extremely hectic week, if for no other reason than that I had a very uncomfortable kiddo, I still managed to snag some good deals without even looking for them. Sometimes God just puts you in the right place at the right time, but I sure hope He never uses poison ivy to get us there again!
Article by Randi Millward