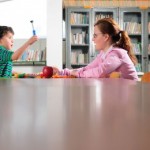 As adults and parents, we always look at our kids as children who need to be taught by us. Right from small things like learning how to ride a bike to more serious problems of algebra, parents seem to have an upper hand in it all. However, in all this teaching we forget that our kids have a lot of teach us too, and if we miss out on these lessons, we will be taking away from the joys of parenthood.
Below are some important lessons we can learn from our kids:
Exercise can be fun – Children never see exercise as a chore. Instead they enjoy it to the hilt. A large part of childhood is games and running around. This is a lesson we can learn from our kids. As adults we begin to shun physical activity and start to see exercises as something we are forced to do. Instead of dragging yourself to the gym and hating every bit of it, it will benefit us to pick up a sport and enjoy it the way kids do. There free spirit and playing the game only for the fun of it instead of trying to prove points to people is a lesson best learnt from kids enjoying their games without a worry in the world.
Think outside the box – Children are very imaginative and this is why they are able to think outside the box. As adults we confine our self to certain boundaries that sometimes suffocate the way we think also. Children are always open to new thoughts and will hardly even be rigid in their approach. This is what helps kids to achieve their potential and think up of novel solutions to their problems. If we can learn from out kids the art of keeping an open mind and looking at things in different ways, it will help us grow as human beings instead of confining ourselves to sects, religion, society, etc.
Curiosity is good – Children are very curious and this curiosity will edge them on to ask questions and these questions help them learn more. As adults we learn to curb our curiosity and will try and adopt a know it all approach to prove our intelligence. This attitude is what keeps us from asking questions about things we don't know and this leads to us stubbing our knowledge. We must learn from kids that curiosity is a good thing and that asking questions will help us know more, learn more and grow more.
Children live their lives on instinct and in free spirit and learning this from our kids will serve us well as adults. So keep the tips listed above in mind and you will be able to enjoy your children fully. Children can teach us a lot about life and if we keep an open mind towards them, they are bound to keep their minds open towards us too and this will help cultivate a better relationship with our kids.