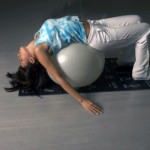 Exercise does not have to take a back seat for single moms. They are tired by the end of the day, do not have time and in most cases cannot spare the money to join a gym. The problem here is no matter how much they try and shelf it, exercise is an important ingredient of a healthy life and sooner or later one will have to give it attention.
It is a fact that single moms do not have long hours to spend on an exercise routine and so need shorter answers to their fitness requirements. Below are three very effective exercise options that do not take a long time and yet help single moms stay fit and healthy.
Run – Running is one activity that does not require you to go to a gym and does not need to be followed at any one given time of the day. You can burn some good calories in a short span of time if you take to running. A good pair of running shoes is all that you need. Even if you have a 15 minute break, you can take a short run and burn a good 200 calories in the process. Running is ideal for single moms who are short on time and so looking for quick exercise options. Just make sure you run on soft running paths so as to avoid hurting your knees.
Aerobics – Here is another fantastic exercise option that is perfect for single moms. There are some great aerobic videos available today and single moms can follow the routine at a time convenient to them in the comfort of their home. Working out first thing in the morn or even late in the evening will work find here since most of these routines are about 45 minutes long and help burn a good number of calories. Moms can follow the routine even while the kids are doing their homework or playing or while their casserole cooks.
Weights – Just wearing arm and leg weights and going around doing your daily chores for two hours a day is a good way to get some strength building into your exercise routine. Again here single mothers will find that their daily routine is not disturbed by this exercise. Ladies can do the chores around the house, go up and down the stairs a few times and even do a few stretches in between it all and they would have been able to burn quite a few calories in the process.
When it comes to exercise options right from yoga to weight training to even cardio, single moms can do it all. The only need is that they should have a desire to include excising in their daily routine. If single moms understand that exercising will help them not only look better but also feel more energetic and keep many diseases at bay, they are sure to lean in towards the activity. Single moms must exercise and make sure that they make time for the activity since it is very important for them.