We always say that life is hard. We hear it all the time. I used to feel like I was tip toeing around broken glass afraid of making the wrong decisions and screwing up my life. It was so hard always trying to figure out what was right and what was wrong. And actually, I spent so much time try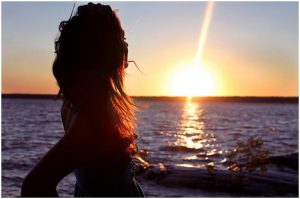 ing to figure out what was right that I ended up just standing still because I was too afraid to make a move. Do you ever feel like life is just one big test?  To see how strong you are? To see what you're made of? It's stressful isn't it? This is one concept I have had to let go of to be truly happy and light hearted about life. Sure I still have my freak out because I feel like the world is caving in on me moments but they never last for very long because of these absolutely beautiful and enlightening lessons that I've learned. A lot of people say that being a single mom has taught me to be happy and while I'll admit that I've learned a lot about life since being a single mom, these lessons apply to everyone because everyone is entitled to a happy and fulfilling life.
Your past does not make you. I used to think that all the hard times are what gave me my strength and molded me into the powerhouse that I am today but believing this just caused me to hold onto all the things that have happened to me. But the things that have broken my heart caused me to cry and feel sad have no place in my heart at all. I've always had my strength and all of the "bad" things that have happened were just opportunities to prove my strength, to remind myself.
You are who you are no matter what happens but where people get into trouble is they relate who they are to conditions in their lives. You don't have to be strong just because you've had a "tough" life. The strength you have inside of you has always been there and will always be there regardless of what life throws you. No matter how your life unfolds, you are who you are…no matter what. So let go of the conditions because you're amazing no matter what. Your past does not define who you are. Your past was just a playground to play out those strengths but you are much too amazing to be bound by physical conditions.
There are no wrong paths in life. Your life has one destination and every day there are many path's to get there but each and every one will take you to the same place if you let it. Your destination? Happiness. And the many paths that you come across every day are just different ways for you to have fun and enjoy getting there. A lot of us though want to control how we get there but did we control how we got here? How we became humans and ended up on planet Earth? No! We never had control to begin with and look at the amazing miracle we came into that we call life. When you let go of control and trust that no matter what happiness is your destination, life becomes so much more amazing. So let go of control, don't stand still and don't try to go back. Just pick a path, day by day and walk it. No matter which one you choose if happiness is your focus, happiness is what you'll find with each and every step.
Life is meant to be fun and easy! Why do we make life so hard all the time? It's like we have this tunnel vision of how we think our life should be and where it should go and we're afraid to lose control of that. We're supposed to be strong, independent and all of these other things that we think we should be but as I said above, no matter what life throws at you, you are who you are and you've always been and will always be who you are. This world does not define you and nothing that happens on it can change who you truly are and happiness is your right no matter what. This world is your playground and your life is meant to be fun and easy! Not hard and exhausting. But it depends on how you look at things. Some people look at me and automatically place me under the single mom with a hard life stereotype but if only they could see my life through my eyes because all I see is freedom, excitement, possibilities and unconditional love. I've learned that life is not some test to prove how valuable I am. Life is a chance for me to enjoy how valuable I already am. Life is a chance for me to fulfill my soul with unconditional love and happiness in unlimited and exciting ways.   And speaking of unconditional…
Real love is unconditional. There will be people in your life who tell you you've hurt them but when you can truly grasp that love is unconditional, no one can hurt you unless you let them. This is wonderful because it means you don't have to be afraid of being hurt or feel guilty for hurting anyone else. The most important love you have to achieve before you can love anyone else is love for yourself. When you love yourself and this is your basis for all relationships, you naturally focus and appreciate the good things about others. I make it a point to appreciate the things I love about others and to do so, so much that the things I don't like about them have no room in my heart. And I know that no one is responsible for how I feel because I always have the power to look within myself and inspire love and happiness. Be responsible for your own well-being and appreciate only the things you love in others knowing that those things are there no matter what. Unconditional love knows that no matter how anyone else acts, you always have the power to focus within and feel worthiness, happiness and love. And if someone walks out on you, let them go because your love for them is unconditional and you will be just fine if they choose a different path.
These three lessons are some of the most important lessons I've learned in life. These three lessons have opened the doors to so much happiness for me and while I know that words cannot teach, I hope mine can at least inspire you.