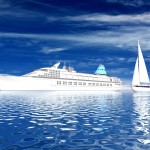 Cruise vacations are a great way to cater for the needs of the whole family and to experience some of the best destinations in the world. They're great value, particularly with so many 2013 last-minute cruise deals available this summer. And with food and accommodation all taken care of in one easy package, plus the a number and variety of pit stops, you often get more for your money compared to other types of holiday. Here are a few tips for anyone considering a cruise with the kids.
1) Be sure to check the minimum age requirement of your chosen cruise
Some operators have a minimum age requirement, so do look into this before you book. There are many cruises that have been specifically tailored to accommodate families, so you may find one of these suits you best.
2) Get the kids involved in the planning stages
It's important that your children understand that this holiday will be a little different to the ones you might have been on in the past. Show them the ship you'll be sailing on; tell them about some of the places you'll be visiting and see if there's anything they'd like to do in particular.
3) Plan for the unplanned
It's rare that a holiday ever comes off without any hitches. For example, planes might be delayed, port stops may be cancelled or poor weather might mean deck time is out. Disruptions can be especially difficult with children in tow. It's a good idea to bring a few boredom busters for occasions where you might have to wait around – think portable DVD players, MP3 players, books, colouring implements; whatever it is that keeps your kids entertained.
4) Be clear about the rules
Because of the nature of a cruise, children need to be absolutely versed in the rules once you're aboard the boat. Make it clear to them that there is a very definite level of danger, but so long as they listen to what you tell them they will have fun in a safe environment.
Cruising with the kids can be great – just make sure you're prepared and know what to expect. The fact that most lines have loads of clubs and activities for children also means you may get some well-earned time to yourself as well.