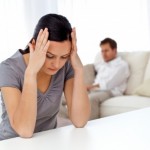 A divorce is never pleasant and one usually has to deal with a lot of emotional pain. The situation is worse when you are a mother and have to not only heal personally, but also make sure that the kids emerge of it with minimal damage. While there is no doing away with the pain entirely, there are a few tips that can ensure that the children are able to hold their own and evolve into better human beings despite the parents having parted ways.
Never make the kids feel guilty – Most divorces are sour and this means that women will hold a fair amount of hatred in your heart. Sometimes this hatred can spill out on your kids and make them feel guilty. Using words like 'your father' or 'that father of yours' or even 'that man' can make the kids feel associated guilt, as if you are accusing them. This is going to have a negative effect on the kids and your relationship with them. Do not get nasty with them over the divorce and always drive home the point that they do not need to take on any burden of their parents' separation.
Relive the happy times with them - There are many negative and sad memories between divorced couples, but reliving them with the kids makes the children insecure and sad. While you maybe simply talking about your spouse, for the kids it their parents and seeing any one of them in a bad light can make the children extremely shaky. On the other hand, if you talk to the kids about how happy both their parents were when the kids were born, or how proud they are to have such good kids, this will make the children feel more positive and confident.
Work towards a positive environment – While initially it may seem very difficult and unfair that you have to raise the kids by yourself, eventually you will have to do just that. From the very first step try and create a happy environment in the house. Keep things as positive as possible. Talk to the kids and clear their doubts as often as they need to. Instead of burdening the children with your sorrows, talk to your friends. It is important that the kids see you as a sturdy caregiver who is able to look after them alone also; otherwise they will feel insecure and unprotected.
Maintain old routines – Instead of changing everything after your divorce, maintain the older routines are far as possible. Children do not take to change well and dealing with their father not being around all the time is difficult enough for them. If you maintain older routines, it will give them some structure to go with and make their move easier.
Dealing with a divorce is by no means easy, but it is important to ensure that the kids do not suffer the brunt of the separation. Keep these tips in mind and work as a team with your spouse in order to ensure that the kids feel loved both by the father and the mother.